Car, Truck, And Bus Washing Reclaim Systems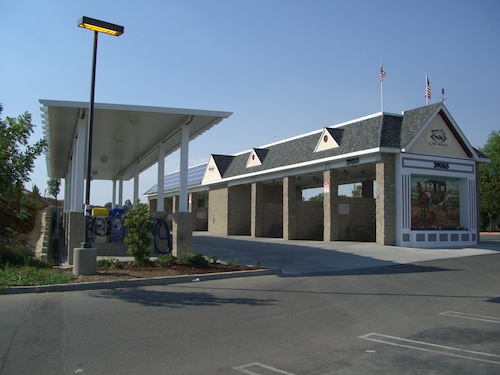 Hydro Engineering reclaim systems are capable of recycling 100% of all wash water that can be captured!
Our Approach Is Different
Ours is not a cookie-cutter approach to carwash wastewater recycling. With Hydro Engineering Inc. you purchase only what you need. Each component of our systems can be integrated into a custom-designed system just for you.
Our unique Bio/Mechanical Filtration Systems perform functions that no other individual system can. Ours will remove; oils, grease, fuels, all types of hydrocarbons, waxes, soaps and other organic chemistries, sand, silt, BOD, COD, TSS and even dissolved solids. Meet the requirements of water recycling with the only filtration/recycling system that insures 100% non-interference with car wash operations.
---
Our Reclaim Systems Can Be Retrofitted Into Existing Carwashes Easily
All carwashes have collection pits and oil/water separators in place. The Extreme Clean will make use of the existing system without extensive changes. Only sump transfer pumps are added. With these pumps in place, installation takes less than one day. Plans for your installation are furnished at no cost with your order.
Here are some examples.

In Bay Automatic


5-Bay Hand Held


Typical (1) Hand Held (1) Automatic


Typical (4) Hand Held (2) Automatic


Typical Tunnel Wash

---
About Hydro-Biodigesters
Before/After
The process starts in your Oil Water Separator
This is the first of two compartments in an oil water separator. As you can see there is a great deal of trapped oil. The resultant odors are what drove the customer to call us. After introducing Hydro-Biodigesters (HBD-O) within one week the smell had gone and after two weeks the oil was gone as well.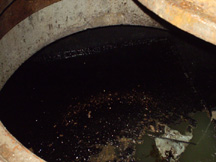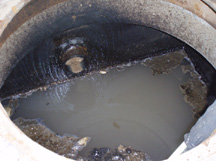 ---
Quality in Manufacturing
Hydrokleen filtration systems employ state-of-the-art, application proven materials of construction and manufacturing techniques to exceed requirements for performance, durability and corrosion prevention. Hydro Engineering, Inc. product quality and design experience ensures customers the most reliable and cost effective solutions available.
All Hydrokleen products are certified to UL, CE and CSA Standards... Read More
---
Add Only the Components You Need
Our Car Wash Reclaim Systems are Modular
Buy only the components you need to accomplish the job your carwash requires. We are one of the few reclaim companies that will tackle wastewater from self-service carwashes. Why? We established our roots in reclaiming water from hand-held washing, cleaning everything from bulldozers to aircraft.
---
pH Monitoring and Dosing Systems
By using a pH monitor, you can determine the exact pH levels of solutions.
For example, rather than say that lemon juice is quite acidic, you can say that lemon juice has a pH of 2.4. An exact pH value can be used to control and/or measure acidity or alkalinity levels in your Hydrokleen water filtration and recycling equipment. The pH monitor can automatically dose counteracting chemical(s) into the wastewater to make a change in the pH.

pH Monitor Specifications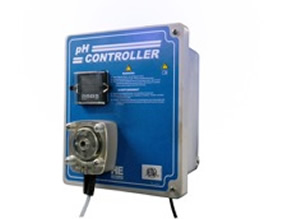 ---
Truck Wash Saves Thousands by Recycling Wastewater
The Wash Rack
A commercial truck wash in Salt Lake City, had a monthly sewer and water bill of $1375. After installing the Extreme Clean system their water and sewer bill dropped to $635.

That's a $740 savings each month.

What could you do with $8,880.00 or more in bottom line profits, every year?

Due to the lower contamination rates in his discharged wastewater the sewer department is currently re-rating his account. This will drop his cost from $3.26 per 1,000 to 75 cents, saving The Wash Rack another $791.00 on each bill.

That's another $4,746.00 per year bringing his total savings up to $13,626.00

Truck Wash Water Analysis

---
Wastewater Recycling Safely
Many competitive systems do not provide recycled water safe for reuse, Pathogens present in the water make exposure to recycled water unhealthy and even dangerous.
---
See Our New Instant Car Wash System
That's right, a portable wash bay just like a self serve car wash.
This Car Wash bay is delivered and set up the same day.

Instant Car Wash Equipment Brochure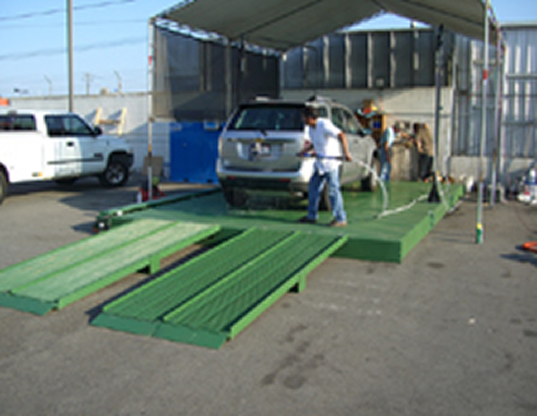 ---
Automatic "In Bay" Instant Carwash
This package could solve all of your implementation issues.
This is an In Bay carwash installed on our patented Hydropad portable wash rack system. For those who don't want to spend time and money on; design, permits, construction and all of the associated headaches this is the answer.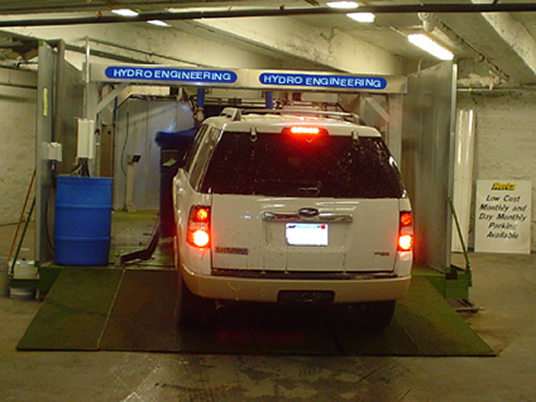 Customer Reviews for
Car Wash
Equipment
---
Like many car dealers we found it hard to wash our cars and meet the rules imposed by the EPA's Clean Water Act. Like any environmentally aware business in California we want to comply with every aspect of the EPA laws and searching an answer to our problem led us to Hydro Engineering Inc... Read More
---
They wanted to charge me $100,000.00 for a sewer connection. I said I don't need a sewer connection, I'm buying a reclaim system... Read More
---
We've had our new Hydrokleen wastewater recycling system providing reclaimed water to our automatic truck wash for a month now. By recycling the water to our washing system we have seen a savings of 65-70% in water usage... Read More
---
We've been urged to conserve water as much as possible. But what if your business is a car wash? How can you expect to be profitable?... Read More
---
Our Hydro Engineering equipment in our truck wash has been in operation since October 10th of 2002, and I think the equipment is very simple and effective... Read More