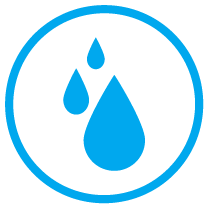 Wash Water Containment Mat
Hydromat
Hydromat is a quickly deployable wash water capture and containment mat for washing and decontamination applications.
Constructed using the best available heavy weight (35 ounce) fabric and vinyl coating. This combination makes Hydromat extremely tough and resistant to tearing and abrasion. Select either air berms with a 12 volt rechargeable pump to inflate and deflate, or foam insert berms. A surface level fluid skimming pump is placed in a low spot that serves as the fluid collection point.
Optional track mats can be lined up with tire tracks of vehicles that will drive over Hydromat. When placed over and under Hydromat, abrasion resistance of Hydromat containment system is substantially improved.
Equipment or vehicles are driven onto Hydromat where wash and decontamination operations are performed. All wash water collected is pumped from Hydromat to a customer supplied containment tank or to a Hydrokleen wash water recycling system.
Clean dirt and debris from Hydromat surface. Roll or fold Hydromat to a compact size for transport from job to job.
---
Options
Built to size
Pump for draining Hydromat
Battery operated blower for filling or evacuating the perimeter berm.