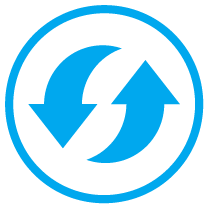 CMAFU-2
Continuous Media Automatic Filtration Unit
The Hydrokleen CMAFU-2 is a simple, low maintenance filter for solids reduction in a variety of applications. It can operate as a stand-alone system or be used to supplement other filtration equipment for total process benefits. The system is offered with options for flow control of input and discharge waste streams, plus a variety of filter media choices are available to accommodate a wide range of filtration requirements.
Wastewater is transferred to the CMAFU-2 where it is evenly distributed over a filter media surface. Filter media is supported and indexed by a driven conveyor that forms a slurry collection basin. Gravity provides the driving force for this low energy solids/liquid separation system. Solids are captured on media while liquid permeates to a lower reservoir.
As solids continue to collect on media, the liquid permeation rate declines, causing wastewater levels in the basin to rise. As the levels reach a set point, media is automatically advanced, creating a fresh media surface in the basin and simultaneously dispenses spent media with previously dewatered solids into a collection receptacle. With fresh media surface, liquid permeation again increases, and wastewater levels in the basin drop and the media conveyor advance stops. Wastewater inflow is continuous and solids/liquid separation is fully automatic.
Filtrate collected in the lower reservoir of the CMAFU-2 is automatically removed by either an included gravity drain or automatically pumped to subsequent Hydrokleen filtration, holding tank or other requirements of application.
Hydrokleen CMAFU-2 systems can be utilized for single pass operation or recirculation processing. They provide highly efficient and effective low energy solids/liquid separation. With no filter cartridges or bags to change or clean, the Hydrokleen CMAFU-2 is automatic.
Request Quote
---
Model Specifications

CMAFU-2
---
Reviews
Everyone who looks at this equipment is amazed of how simple it is
"Our 4/2000EHGV Hydroblasters have been great, they run from 10-14 hours per day with no problems."
---
The Coolant Care Provides Results!
"We were astounded at the amount of sludge build up the Coolant Care unit removed from our coolant."
---
We Have Experienced Savings of $14,5000 per Month
"The attention to detail in the planning phase was a true reflection on the success of the roll out of the equipment."
---
I Have No Worries About Reclaim Water
"My Hydrokleen wastewater recycling system runs great, all I do is the required upkeep."
---
Recycling For 3 Years and Working Great
"After 3 years, it still works great, It rocks and rolls as long as you keep up the maintenance."
---
Eight Bay, Hand Held Car Wash on Total Reclaim
"My reclaim water has no odor and I've never had a customer complaint."
---
---
Hydro Engineering Water Filtration and Recycling Systems Work!
"Hydro Engineering products have been simple and cost effective to use!"
---
Budweiser Distributor Saves Big On Water
"By recycling the water to our washing system we have seen a savings of 65-70% in water usage."
Applications