---
"We believe in conserving water and protecting our environment. Through innovation, we achieve these goals. Our Hydroblaster, Hydrokleen and Hydropad products promote water conservation and compliance with environmental regulations."
---
Portable Wash Racks
SOCORRO from Hydro Engineering on Vimeo.
Hydropad Wash Racks, the AUWS, Hydroblasters, and Hydrokleen systems can be combined to create the most versatile and reliable system to quickly clean and maintain your equipment and fleets.
Learn More
---
Instant Car Wash Systems
SIXT from Hydro Engineering on Vimeo.
The ICW is equipment. It does not require construction and in most cases, permitting is not required because there is no need to connect to sewer. Connect power and water and start washing!
...Read More
---
Introducing The All New
Disinfectant Application System©
For Bio-Security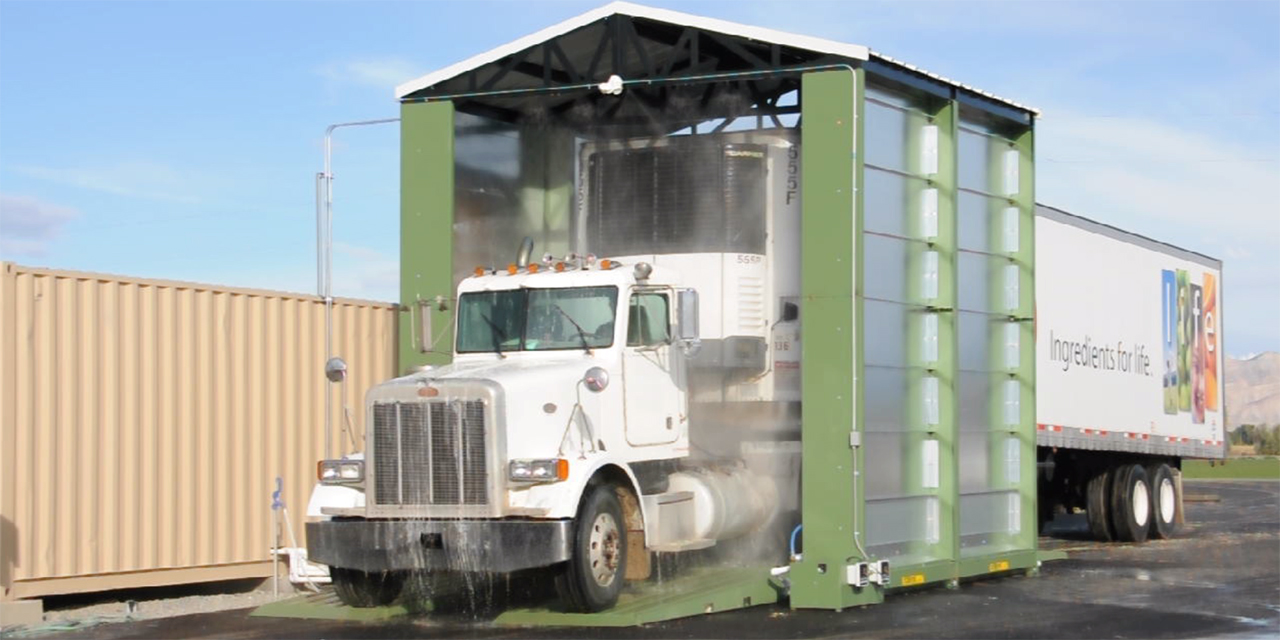 Patent Pending
Designed with safety and security as the top priority, the DAS© is your best solution for keeping your facility safe from biological infestation....READ MORE
Disinfects in Less Than a Minute
Automatically Mixes Chemicals
All Above Ground
No Design, Permits, or Construction
Sets Up in One Day
Can Be Moved
Needs Only Power and Water
Recycles 100% of the Collected Solution for Re-use
Patent Pending
---
Wash Rack Systems For Equipment and Vehicles
Hydro Engineering Inc.
Will design and assist with implementation of your Instant Wash Rack System
Our systems are not a construction project
Permitting is not required in most cases, this is equipment
Set up and training is fast
Meets Storm Water Pollution Prevention Plans (SWPPS)
Recycle 100% of all wash water collected
---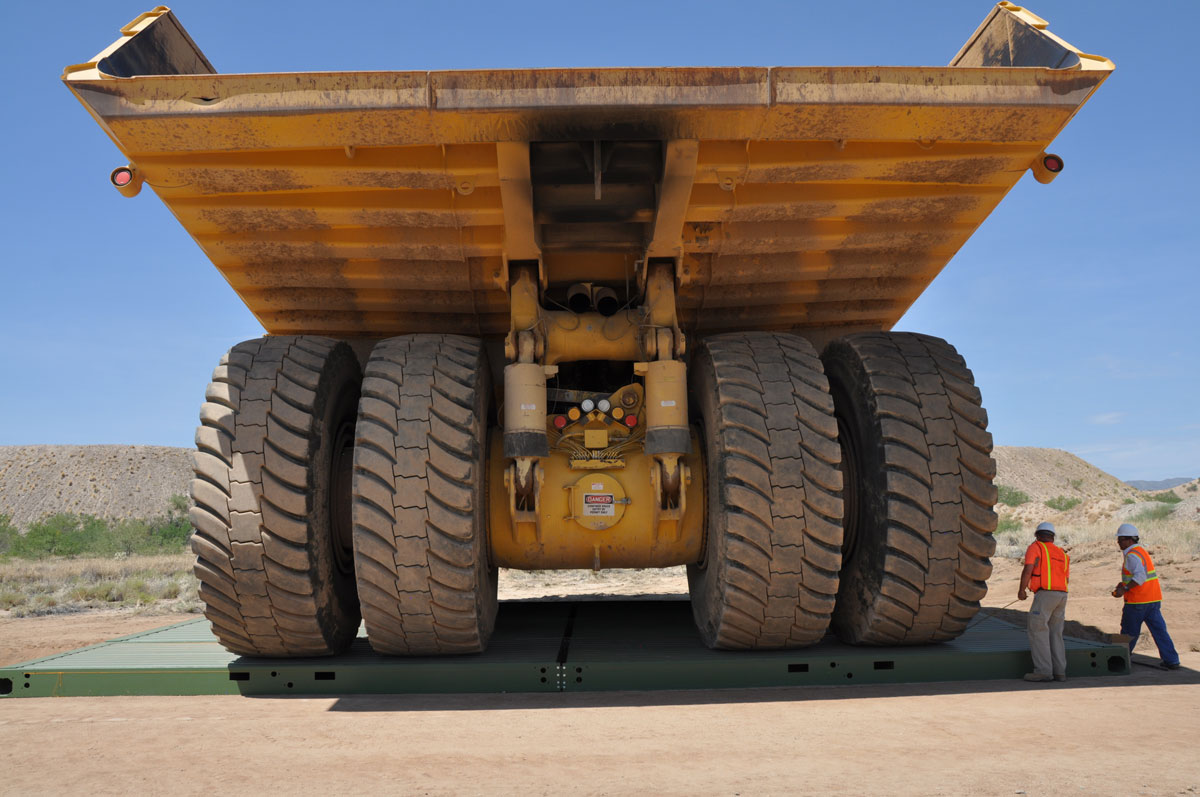 Any Size - Any Where
Since 1980, Hydro Engineering, Inc. is the premier manufacturer of the innovative and patented Hydropad Portable Wash Rack. Initially our Hydropads were used in the automotive industry for capturing waste from small vehicles such as cars and trucks. Throughout the years, the popularity and increased utilization of portable wash racks has changed. Larger equipment demands larger Hydropad wash racks. Heavy solid loading require automatic solids liquid separation. Hydropads are in place for vehicles and equipment as large as Ultra Class mining trucks. Hydropads meet the needs and provide flexibility for any wash rack application. The addition of waste water recycling is available to enhance any Hydropad wash rack system.
Coupled with the finest washing systems ever built this Portable Wash Rack System can be used to wash almost anything. Contact us to discuss your needs today!... Read More
---
New Products
ADWS-TT Aircraft Deluge Wash System, Tandem Trailer
The ADWS-TT is the Aircraft Deluge (wash/rinse) system designed to meet the requests of our Aircraft Maintenance customers. This self contained, tow-able, aircraft washing system brings corrosion control to the aircraft, anywhere in the world.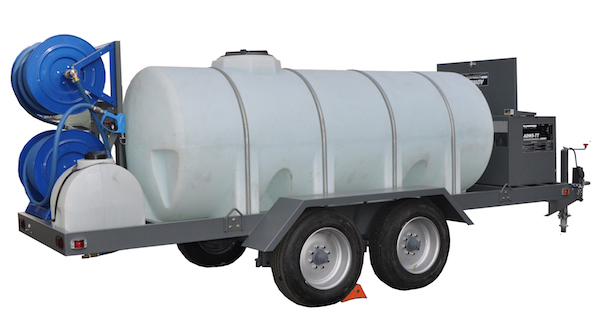 ---
ATAWS Advanced Total Aircraft Wash System
The ATAWS (Advanced Total Aircraft Wash System) is the complete integration of Hydro Engineering's AWS, Aircraft Wash System and TEWS, Turbine Engine Wash System.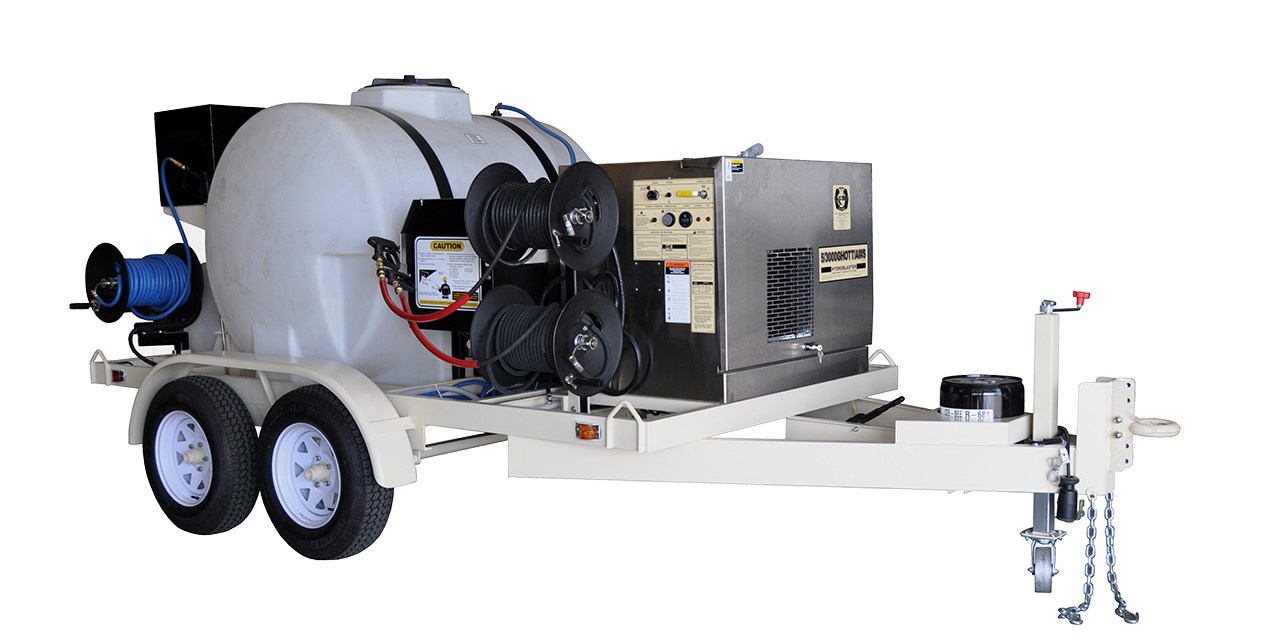 ---
The World's First Instantly Deployable Large Aircraft Washing System.
Roll this highly specialized unit out onto the parking ramp, set it up in less than an hour, and you're washing.
To make this even more unique, it recycles 100% of the collected water for reuse.
When you don't have a wash rack readily available just call the people who can solve the problem.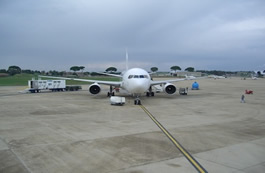 ---
Introducing the Instant Car Wash System
Many car dealers and rental companies don't have a good way to wash their vehicles quickly and conveniently. This complete "Turnkey" package solves the problem. The system can be installed in just hours. Its wash pad and wash/recycling cabinet are all you need. Together these units make up the entire package. That's right, no complicated and expensive equipment in this EPA-compliant package. Set it down, hook it up and you're washing!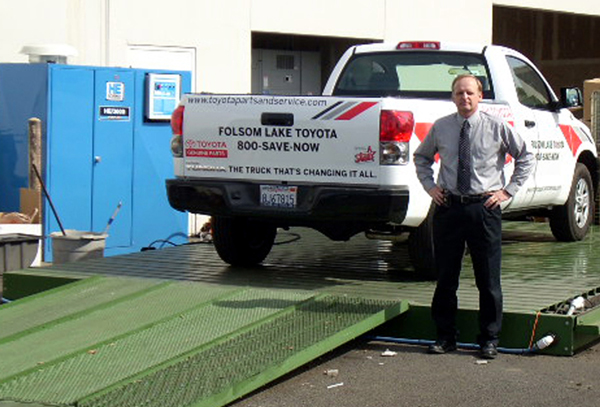 ---
Products For Government
Portable Indoor Wash Rack
Need an indoor wash rack for washing any type of equipment? The Hydro Engineering Portable Wash Rack System Is The Answer! A complete turnkey system is installed by factory personnel quickly.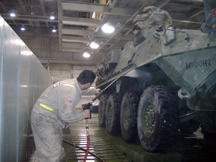 ---
Storm Water Pollution Prevention Plan (SWPPP)
Who is affected?
Roads, Parks and Recreation departments nationwide are all faced with SWPPP issues and with tight budgets a fast economical way to come into compliance must be found.
Not all recycling systems are the same
Recycled water safety is a real concern, pathogens present in the water can make employees ill if proper steps are not taken to insure their safety.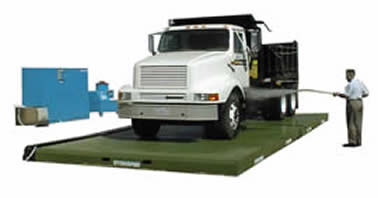 ---
AIS Decontamination
Prevention Or Containment
Are you worried about invasive species getting into your lake or waterway? YOU SHOULD BE!
Prevention- keep invasive species out. What are invasive species?
Zebra Mussels
Quagga Mussels
Mud Snails
Weeds and Grasses
Containment and Management- if your water is already contaminated we can help you keep invasive species from spreading to other waterways.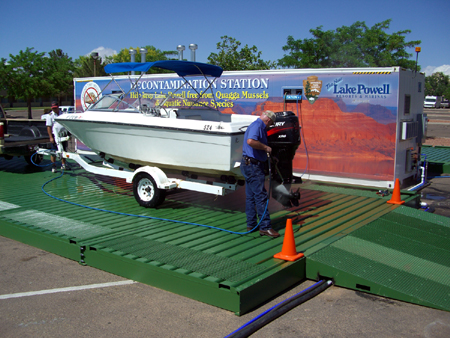 ---
Equipment Safety & ISO 9001 Certifications
Hydro Engineering Inc. is an ISO 9001-2008 company
In addition, all of our products are certified to United States UL, Canadian CSA and European CE safety standards. These certifications make our products stand out as the safest available today.
Press Releases
---
Hydro Engineering, Inc has submitted a patent application for enhanced biosecurity for poultry farms with the Disinfectant Application System that is 100% automatic.
...Read More
---
When people clean their vehicles, they may have noticed something foul about the smell of the car wash. Here are some interesting tidbits that may have wafted by.
...Read More
---
Creating a portable wash bay just became a whole lot easier with Hydro Engineering's brand new redesigned Hydropad.
...Read More
---
Hydro Engineering Inc. offers a wide variety of options for washing the outside of vehicles and equipment. Now, the inside of turbine engines can be cleaned too; the TEWS brand of engine washers will make any aircraft turbine washing a breeze.
...Read More
---
Screen reclaiming is a difficult and dirty job. Hydro Engineering Inc. simplifies reclaiming with process improvements and new equipment designs to make screen printing safe and environmentally acceptable.
...Read More
---
Beginning in 2007 Hydro Engineering Inc. started working with the Utah Department of Natural Resources (parks and recreation) and has provided over 50 mobile, trailer mounted Hydroblaster specifically designed for Aquatic Invasive Species decontamination.
...Read More
---
Historically, car wash operations have consisted of soaking, washing, and rinsing with little concern of where that dirty water goes. Ideally with drought-like situations, the water should be constantly recycled in order to eliminate unnecessary consumption; now, Hydro Engineering Inc's new solution is that dirty water can be reverted back to clean water and stay in the system, saving both resources and money in this recent California drought.
...Read More
---
The innovative Hydropad Wash Rack System is utilized to capture and recycle 100% of wastewater. Now, Hydro Engineering Inc. has developed ways in which to efficiently capture and dispose of dirt and debris that come from heavy equipment and landscaping maintenance.
...Read More
---
Hydro Engineering Inc was 1 of 179 companies out of over 6000 to achieve the exemplary level of contract performance supplying quality products to our men and women in our armed forces.
...Read More
---
Cliff's Natural Resources PTY LTD and Hydro Engineering Inc. have completed the installation of a completely portable and environmentally friendly Hydropad wash rack, which recycles and completes waste water treatment.
...Read More
---
The American Bonanza Mine and Hydro Engineering Inc. have completed the installation of a completely portable and environmentally friendly Hydropad wash rack which recycles and reuses the wash water.
...Read More
---
Hydro Engineering delivers and commissions its green wash rack as part of Boeings KC-767 aircraft refuelers program supplied to the Italian Air Force. This completely portable wash rack also collects and recycles the water from the aircraft washing process.
...Read More
---
Major changes to storm water pollution prevention plans (SWPPP), are on the way. Hydropads from Hydro Engineering Inc can solve your chemical containment requirements and your cleaning operations requirements.
...Read More
---