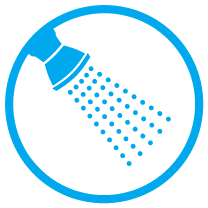 Electric Motor, Cold Water Pressure Washer
E Series
The E pressure washer family features only premium components built to exacting standard to produce the best heavy duty electric motor driven pressure washers available. These systems are rated for continuous operation. The series conform to CE standards and has been tested and listed by ETL to meet the requirements of applicable US and CSA standards for use even in wet environments.
The E series can be configured to operate on any available power supply around the world. Various optional controls and wash tools extend the systems suitability to a wide array of applications.
Key Features:
2 to 20 HP
Up to 5,000 PSI
Up to 10 GPM
All E model Hydroblaster pressure washers are UL-1776 and CSA certified, and conform to CE standards.
---
Select Model For Specification Detail
| Model | GPM (LPM) | PSI (BAR) | HP (kW) |
| --- | --- | --- | --- |
| 3/1000E | 3 (11.4) | 1000 (69) | 2 (1.5) |
| 4/2000E | 4 (15.4) | 2000 (138) | 5 (3.73) |
| 4/3000E | 4 (15.4) | 3000 (207) | 7.5 (5.6) |
| 5/3000E | 5 (18.9) | 3000 (207) | 10 (7.46) |
| 5/5000E | 5 (18.9) | 5000 (345) | 20 (14.9) |
| 7/3000E | 7 (26.5) | 3000 (207) | 15 (11.2) |
| 10/2000E | 10 (37.8) | 2000 (138) | 15 (11.19) |
| 10/3000E | 10 (37.8) | 3000 (207) | 20 (14.9) |