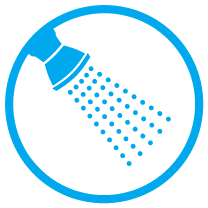 Chemical Mixing, Liquid and Foam Applicators
Chemical solutions are often required for cleaning and sanitizing. It's important that these products are properly mixed and quickly applied. Hydro Engineering offers a variety of mixing and application systems that will help you obtain the best results from your equipment wash chemicals.
2/1EF (Foamer and Chemical Mixing System)

2/1EF is a high performance chemical foaming system that also provides water to mix ratios as high as 2 parts water to 1 part chemical with flow meter accuracy. The foaming accelerator is unmatched in ability to apply a thick rich foam through a trigger gun and wand assembly to extreme distances. Thick dry foam is quickly sprayed at safe low pressure.
With requirements for multiple stations, 2/1EF can stack 4 high.

CMARS(Chemical Mixing and Rinse System)

The 3IP512 Chemical Mix & Delivery System allows solutions to be mixed at up to a 4 parts water to 1 part concentrate solution strength and at flow rates up to 12 GPM. The system can be configured to deliver the mixed solution at flow rates between 3 GPM and 12 GPM and pressures up to 100 PSI. This system is available in wall mount and floor mount configurations.

SMS(Solution Mixing Station)

The 2BC802 Foam Generation System mixes compressed air with the solution produced by the 3IP512 Chemical Mix & Delivery System to produce foam. The system consumes about 4-10 CFM of compressed air for each gallon of solution that is foamed.

Hydrofoamer(Chemical Application System)

The 2BC802 Foam Generation System can also be configured as a portable system with integral solution tank, pumping system and foam generation controls. Simply connect to compressed air to operate the system.
---
---

2/1EF Hydrofoamer

Hydrofoamer

Remote Equipment Module

Chemical Mix Station and Rinse Station

Chemical Mix and Delivery System