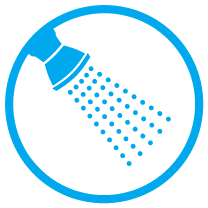 Instantaneous Pressure Washer Water Heater
The Hydroblaster Heater will turn any cold water pressure washer into a hot water pressure washer.
These water heaters are available for use with pressure washers operating at up to 4000PSI and for volumes up to 7 GPM. Systems fired with oil, natural or LP gas require either 12VDC, 120 or 230VAC. Electrically heated systems typically require 480V 3-phase power.
The Hydroblaster Heater is supplied with all the operating controls and safety devices that are used on the safety certified Hydroblaster pressure washers.
---
Options
Adjustable thermostat
Flows up to 7 GPM on certain models
Operating pressures up to 4000PSI
Pressure gauge
Temperature gauge
---
Model Specifications

Hydroheater