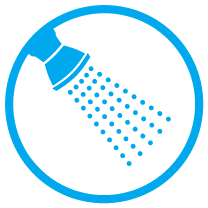 Instantaneous Hot Water For Pressure Washers
Hydroheater turns any cold water pressure washer into a hot water pressure washer.
Choose fuel type, Oil (diesel fuel), LP or natural gas and then determine the GPM of pressure washer to connect to Hydroheater. 3-5GPM or 7GPM systems provide versatility to operate with just about any pressure washer.
---
Options
Adjustable thermostat
Flows up to 7 GPM on certain models
Operating pressures up to 4000PSI
Pressure gauge
Temperature gauge
---
Model Specifications

Hydroheater, Oil Fired

Hydroheater, Gas Fired

Hydroheater, LP Fired