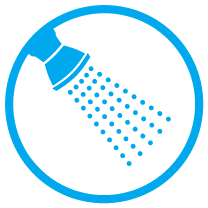 Electric Motor, Cold Water Pressure Washer
EI Series
The EI pressure washer series features a variety of compact heavy duty electric motor driven pressure washers. These systems include a mounting platform with wheels or feet and lift handle(s). Various optional wash tools extend the systems suitability to a wide array of applications.
Key Features:
1.5 to 5 HP
Up to 3,000 PSI
Up to 4 GPM
50'HP hose standard
GFCI protected
---
Volume in GPM (LPM)
Pressure in PSI (BAR)
Horsepower (kW)
Select Model For Specification Detail
---
Reviews
This pressure washer we have had for 19 years has been very dependable
"It has been used anywhere from 3 - 5 days a week reclaiming screens for our screen printing business."
---