Turf Equipment Instant Wash Rack Systems
Portable Wash Rack Systems That Set Up Fast
Golf courses have many unique problems in constructing a government-approved wash rack. This can be very time-consuming and complicated. The Hydropad portable wash rack system addresses these challenges. Imagine getting a wash rack completed fast that does not require any of the following:
Design
Permitting
Construction
This is equipment, not a project
This wash pad is not a grated surface causing dirt and grass to drop through where it's hard to remove. Our PATENTED Portable Wash Rack system sheds all water and debris to a side gutter where it is easily removed. Only the Hydropad can make this claim. No more clogged sumps!
All types of golfcourse and turf care equipment can be washed quickly and environmentally friendly with our washing and wastewater recycling systems. Our Bio-Mechanical approach to water reclamation removes pesticides and chloroform found in wastewater from cleaning lawn maintenance equipment.
---
Portable Wash Rack System
Hydropad Portable Wash Rack Benefits
Architects
Engineering
Permitting
Demolition
Excavation and hauling
Underground pits, plumbing and containment
Construction of trenches and catch basins
Construction delays
Then the realization that you have put it in the wrong place
---
The Components Are Simple
a patented Hydropad portable wash rack which catches the water, a Bio-mechanical waste water recycling system and Hydroblaster pressure washer.
Download A Brochure Click here to open

Turf Brochure
---
Select a Site for Your New Wash Rack
Any firm flat surface can handle the Hydropad turf care equipment wash rack. All you need is electric power and a freshwater source. Connections are simple.
---
Choose a Hydropad System to Fit
Hydropads are modular and connected together they will create any size wash pad. Just use the dimensions of your largest piece of equipment and allow space all around. This pad system is 24 feet long and 14 feet wide. Hydropads come in 8, 10, 12, 14 & 20' wide x 8' long. Our lightest weight pad will hold 6,000 pounds per square foot. . .even your largest piece of turf equipment is no problem!
---
Shelter Can Be Added
To eliminate rain from entering the system and provide shade for your workers a canopy can be added. In this case both the Hydropad portable wash rack, Hydrokleen wastewater recycling and Hydroblaster washing systems are all located within the enclosure.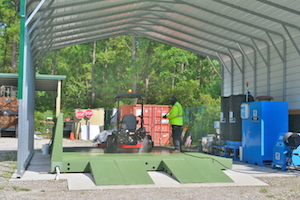 ---
Drive In One Side And Off The Other
If you have the space, ramps can be placed on each end allowing drive on drive off access. Our Project Managers are experts at assisting you to determine what configuration of Instant Wash Rack is just right for you.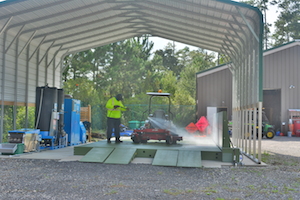 ---
Press Releases
---
Hydro Engineering, Inc has submitted a patent application for enhanced biosecurity for poultry farms with the Disinfectant Application System that is 100% automatic.
...Read More
---
When people clean their vehicles, they may have noticed something foul about the smell of the car wash. Here are some interesting tidbits that may have wafted by.
...Read More
---
Creating a portable wash bay just became a whole lot easier with Hydro Engineering's brand new redesigned Hydropad.
...Read More
---
Hydro Engineering Inc. offers a wide variety of options for washing the outside of vehicles and equipment. Now, the inside of turbine engines can be cleaned too; the TEWS brand of engine washers will make any aircraft turbine washing a breeze.
...Read More
---
Screen reclaiming is a difficult and dirty job. Hydro Engineering Inc. simplifies reclaiming with process improvements and new equipment designs to make screen printing safe and environmentally acceptable.
...Read More
---
Beginning in 2007 Hydro Engineering Inc. started working with the Utah Department of Natural Resources (parks and recreation) and has provided over 50 mobile, trailer mounted Hydroblaster specifically designed for Aquatic Invasive Species decontamination.
...Read More
---
Historically, car wash operations have consisted of soaking, washing, and rinsing with little concern of where that dirty water goes. Ideally with drought-like situations, the water should be constantly recycled in order to eliminate unnecessary consumption; now, Hydro Engineering Inc's new solution is that dirty water can be reverted back to clean water and stay in the system, saving both resources and money in this recent California drought.
...Read More
---
The innovative Hydropad Wash Rack System is utilized to capture and recycle 100% of wastewater. Now, Hydro Engineering Inc. has developed ways in which to efficiently capture and dispose of dirt and debris that come from heavy equipment and landscaping maintenance.
...Read More
---
Hydro Engineering Inc was 1 of 179 companies out of over 6000 to achieve the exemplary level of contract performance supplying quality products to our men and women in our armed forces.
...Read More
---
Cliff's Natural Resources PTY LTD and Hydro Engineering Inc. have completed the installation of a completely portable and environmentally friendly Hydropad wash rack, which recycles and completes waste water treatment.
...Read More
---
The American Bonanza Mine and Hydro Engineering Inc. have completed the installation of a completely portable and environmentally friendly Hydropad wash rack which recycles and reuses the wash water.
...Read More
---
Hydro Engineering delivers and commissions its green wash rack as part of Boeings KC-767 aircraft refuelers program supplied to the Italian Air Force. This completely portable wash rack also collects and recycles the water from the aircraft washing process.
...Read More
---
Major changes to storm water pollution prevention plans (SWPPP), are on the way. Hydropads from Hydro Engineering Inc can solve your chemical containment requirements and your cleaning operations requirements.
...Read More
---