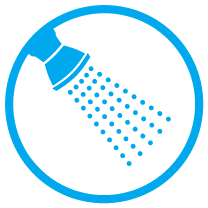 Remote Control Stations
REM & 1YJ090
The REM (Remote Equipment Module) is a highly configurable work station designed to improve work place safety and efficiency.
An REM can be equipped with:
Controls for Hydroblasters, wash brushes, vacuum and foaming soap systems
Up to two manual or powered reels (for fluids, air, or electric cable)
Up to two overhead low maintenance booms (for fluids, air, or electric cables
Placard mounting surface (a wide variety of application placards are available)
Wand, gun, and brush holders that keep tools organized and safely stored
REM frame features heavy I-Beam construction. Mounting plates, brackets, booms and reels are bolted to frame as required by application.
The REM can be mounted on wash bay floor but is principally designed for connection to a Hydropad steel wash rack. When Hydropad mounted, it is positioned along a side of wash rack. If Hydropad array doesn't include walls, the REM is self-standing. When wash rack includes walls, REM is integrated into Hydropad wall system.
When connected to Hydropad array, operator tools and controls mounted on REM intrude into wash area less than 6". This substantially increases clear work area of wash rack. Wash rack walls eliminate overspray from landing on reels or booms attached to REM because they are positioned outside Hydropad wash rack work space.
To improve workplace safety and keep wash area clear, lines (fluid, air, etc.) enter wash area well above the floor. Lines mounted on reels are threaded up and through swivel rollers and enter wash area about 8' above grade. Boom height is adjustable from 8' up to about 14' above REM base.
1YJ090 REM is the first generation Remote Equipment Module. Available wall or pedestal (floor) mounted. The 1YJ090 has a wide assortment of system options including; start stop stations, manual or retracting hose reels and tool handling systems to accommodate just about any in-bay remote operating station requirement.
---
Options
Single reel
Dual reel
Hyroblaster on/off
Hydrofoamer controls
Hose lengths of 50', 75', 100', and more
---
Model Specifications

Remote Equipment Modules

1YJ090 REM