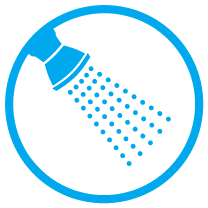 Gas Engine Hot Water Pressure Washer
GSOV Series
Multiple finish coats, tree sap and soil are quickly removed without chemicals from this Ipe deck surface with a 5/3000GSOV Hydroblaster hot-water pressure washer.
Hydroblaster GSOV series is a wheel mounted portable design that features gas engines and oil fired water heating systems. These industrial duty hot-water pressure washers pack a lot of performance into a compact system that is really built to last. They are constructed with premium components that are assembled on frames made with heavy wall steel tubing and formed steel plate. The unique tilt-back design incorporates foam filled tires that never go flat and make the system easy to maneuver even over difficult terrain. These systems are very stable when returned to the vertical operating position. They feature controls that are easy to understand and operate.
Key Features:
13 or 19 HP Gas Engine
Variable Pressure Up to 3,000 PSI
3.5 or 5 GPM Flow Rate
All GSOV model Hydroblaster pressure washers are certified to CE, CSA, and UL safety standards.
---
Select Model For Specification Detail