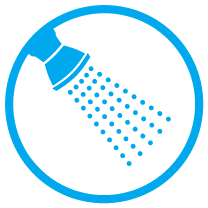 Pressure Washer, Engine Driven, Skid Mounted
GS Series
Hydroblaster skid mounted portable systems are available with either gasoline or diesel drive engines. These industrial duty cold-water pressure washers are built to last. They are constructed with premium components that are assembled on frames made with forged steel channel and formed steel plate. The components are enclosed in steel or stainless steel lockable housings that protect the components from theft and the elements. These systems feature easy operation and a long service life.
There are 3 models to choose from:
Key Features:
19 to 25 HP
Up to 5,000 PSI
Up to 10 GPM
All GS model Hydroblaster pressure washers are certified to CE, CSA, and UL safety standards.
---
Select Model For Specification Detail