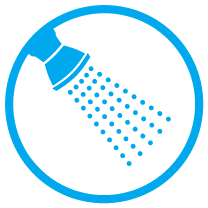 Model 5/3000GHOTT/M Hydroblaster
5/3000GHOTT/M
NSN 4940-01-358-4247
GSA Contract: GS-07F-0217Y
TO 1-1-691 compliant for corrosion prevention of USAF aircraft. Rugged diesel driven with diesel fuel heating burner, single fuel source. MILSPEC designed and capable of deployment to any forward location. Paint colors are the same as the AWS.
---
Options
Paint color:

Desert Tan
Hydro Blue
OD Green
Gray
Yellow (Netherlands Ministry)

Painted steel or stainless steel trim - including equipment enclosures
Forklift accommodations
Hi-flow foaming system
---
Model Specifications

5/300GHOTT/M Standard

5/3000GHOTT/M-ST Steerable Axle
---
Reviews
YOUR PRODUCTS ARE THE BEST ON THE MARKET
"We are serving in the US Air Force, central Iraq, and use these machines to clean air conditioners and vehicle tires to avoid damage to aircraft engines."
---