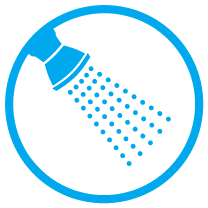 Engine Driven, Skid Mounted Pressure Washer
GHO
Gasoline or diesel engine-driven, oil-fired (diesel, JP4, JP8 or kerosene), hot water pressure washers. Nothing compares to the GHO for safety or toughness. These are the most durable and rugged pressure washers on the market. There are 2 models to choose from.
Key Features:
19 to 25 HP
Up to 5,000 PSI
Up to 5 GPM
All GHO model Hydroblaster pressure washers are certified to UL-1776, CSA, and CE standards.
---
Volume in GPM (LPM)
Pressure in PSI (BAR)
Horsepower (kW)
Select Model For Specification Detail
Reviews
My Hydroblaster Trailer Saved My Life
"The best pressure washing trailer built."
---
No Reason To Buy Any Other Brand
"The guys at Hydro Engineering build the best pressure washing equipment we have ever seen."
---
It's has been a major player in the success of my business
"Looking forward to having about a fleet of ten of these Hydroblasters."
---