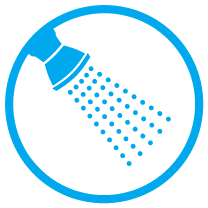 Turbine Engine Wash System
The Hydroblaster model 12/075TEWS-USCG 1730-01-592-2166 is the direct replacement of the original successful model 12/075TEWS-DST. This system was redesigned to meet fully with wash requirements set forth for the Rolls Royce AE2100D engines, commonly aboard the C130J airframe. This system is designed to supply required air supply to close all four fuel pucks simultaneously and hold closed throughout the complete wash cycles. Typical four (4) engine C130J wash and three rinses completed in 21 minutes, abiding with Rolls Royce requirement of a high RPM burn within 30-minutes of first fluid push. System includes fluid line evacuation via bypass air to remove water from wash lines (freeze protection) and to air blow the fluid fuel lines on the engine as required.
The TEWS-USCG as standard set to facilitate up to four (4) engine interface with the standard four (4) locking, spring retract reel configuration. Mounted on a heavy-duty steerable flight line trailer and powered by a heavy-duty water-cooled diesel engine which exemplifies a quality selfcontained engine wash system. System is equipped with QDs and fittings to support the C130J posts and the C130H fuel and air lines.
Factory set to support the following aircraft engines and aircraft:
Rolls Royce AE2100D; C130J Super Hercules, C27 Spartan, P-3 Orion.
Allision T56; C130H Legacy Hercules, L-100, P-3 Orion, E-2 Hawkeye.
CFM-56; KC-135 Tanker, B737.
PW F117; C-17 Globemaster II, Boeing 757, Boeing C-32, KC-46 Pegasus.
---
Options
Nacelle Rinse Guns
KC-135 Intake spray wand
C17 "Y" splitter that interfaces with the aircraft maintenance operator supplied shepherd hooks
Optional Paint color:

USAF SE Gray
USCG White
OD Green
Desert Tan
Hydro Blue
Available for purchase from Hydro Engineering, Inc. NSN 1730-01-592-2166, Cage Code 64030.
---
Model Specifications

TEWS-USCG Brochure
Download the Whitepaper
Aircraft corrosion is a multi-billion dollar problem. On some aircraft types, corrosion maintenance hours are know to outstrip flight hours. Download the white paper below for a comprehensive view of Hydro's unique solutions.

Click here for the paper
---