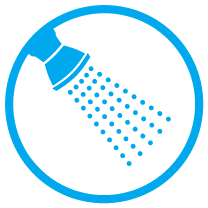 Turbine Engine Wash System
The model 12/075TEWS-DST Turbine Engine Wash System is specifically designed to support large aircraft engine washing requirements. The system can be configured to sequentially wash up to four engines on a single aircraft with a single setup. Air and fluid lines are connected to all engines simultaneously. Each engine is washed and then rinsed sequentially to allow proper dwell time for gas path cleaner and rinsing.
The DST is completely self-contained with on board rinse water tank, gas path solution tank, compressed air system and diesel engine power source. All delivery hoses are reel mounted. Trailer can be configured with either flight line typical steerable axle or road version tandem axle trailer.
The system is factory set to support the following engines and (airframes):
Allison T56-A-15 (C-130H, L-100 Hercules, E-2 Hawkeye, P-3 Orion)
Rolls Royce AE2100D (C-130J, P-3 Orion, C-27 Spartan)
F117 Pratt & Whitney (Boeing C-17 Globemaster II, Boeing 757, Boeing C-32)
---
Options
Tandem axle trailer with park brake
Steerable axle trailer with park brake
Paint color:

USAF Gray
OD Green
Desert Tan
USCG White

2 or 4 engine wash configuration with power retractable reels
Whips for air and fluid connections
Quick disconnect for air and fluids
High volume rinse gun
Tool box / tool bag
Engine connection adapters for fluid and air
Available for purchase from Hydro Engineering, Inc. NSN 1730-01-592-2166, GSA Contract GS-07F-0217Y, Cage Code 64030.
---
Model Specifications

TEWS-DST Brochure
Download the Whitepaper
Aircraft corrosion is a multi-billion dollar problem. On some aircraft types, corrosion maintenance hours are know to outstrip flight hours. Download the white paper below for a comprehesive view of Hydro's unique solutions.

Click here for the paper
---