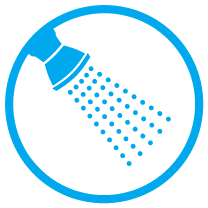 Electric Motor, Hot Water Pressure Washers
The CLOV series of Hydroblaster pressure washers include competitively priced systems with flow rates up to 4GPM and pressures up to 3000 PSI.
These industrial rated compact systems are electric motor driven and oil fired. They can be configured with a wide variety of options including casters if a mobile system is required or remote controls if the system will be stationary and operate in an equipment room.
The CLOV models are all ETL listed and certified to meet UL and CSA standards and conform to CE standards.
Key Features:
1.5 to 7.5 HP
Up to 3,000 PSI
Up to 3.7 GPM
---
Select Model For Specification Detail
Shop Drawings

Model CLOV