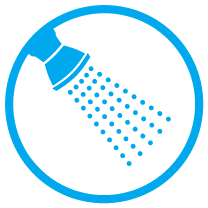 Aircraft Wash System
AWS
NSN 4940-01-558-9744
GSA Contract: GS-07F-0217Y
The Aircraft Wash System, (AWS), has set the bar for exterior airframe washing. Three operators can work simultaneously, one (1) applying foaming soap and two (2) rinsing. The AWS is a safe, simple to operate fully self-contained Hydroblaster capable of enhancing any wash application.
---
Options
Paint color:

Desert Tan
Hydro Blue
OD Green
Gray
Yellow (Netherlands Ministry)

Painted steel - including equipment enclosures
Forklift accommodations
Hi-flow foaming system
---
Model Specifications

Aircraft Wash System
Download the Whitepaper
Aircraft corrosion is a multi-billion dollar problem. On some aircraft types, corrosion maintenance hours are know to outstrip flight hours. Download the white paper below for a comprehesive view of Hydro's unique solutions.

Click here for the paper
---