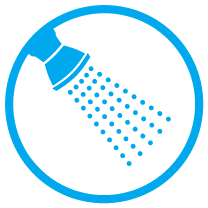 Aircraft Deluge Wash System
ADWS-TT is the self-contained, towable, aircraft deluge and washing system / rinse cart that brings corrosion control to the aircraft.
Features of this tandem axle trailer mounted system include trailer parking brake, DOT approved electric brakes and lighting, Iift and tie down accommodations, diesel engine driven pumping system, 1000-gallon water supply, 30-gallon soap supply, dual or single gun operator controls with flows to 25 GPM and high-volume foaming soap application system. The AWS-TT is a valuable asset for fresh water rinsing of aircraft after oceanic missions and for aircraft stationed at bases located within three miles of a coastline as stipulated within T.O. 1-1-691.
---
Options
Hydraulic trailer brakes
Paint Color:

Desert Tan
Hydro Blue
OD Green
Gray
---
Model Specifications

Aircraft Deluge Wash System
Download the Whitepaper
Aircraft corrosion is a multi-billion dollar problem. On some aircraft types, corrosion maintenance hours are know to outstrip flight hours. Download the white paper below for a comprehesive view of Hydro's unique solutions.

Click here for the paper
---