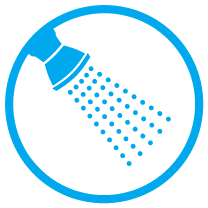 Foamer and Chemical Mixing System
2/1EF is a high performance chemical foaming system that also provides water to mix ratios as high as 2 parts water to 1 part chemical with flow meter accuracy. The foaming accelerator is unmatched in ability to apply a thick rich foam through a trigger gun and wand assembly to extreme distances. Thick dry foam is quickly sprayed at safe low pressure.
With requirements for multiple stations, 2/1EF can stack 4 high.
---
---

2/1EF Hydrofoamer