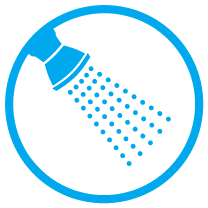 Turbo Nozzle Enhances Pressure Washer Performance
Turbo Nozzle
Guaranteed to improve the cleaning efficiency of any Hydroblaster pressure washer with a hard hitting waterjet.
The Turbo Nozzle produces a cone spray by spinning a 0° nozzle inside the nozzle housing. This rotating action creates a wide coverage spray pattern with the impact of a 0° nozzle.
Available in a variety of sizes and pressure ratings.