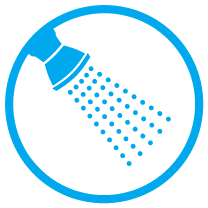 Foaming Soap Application System
Model 2BC802 Hydrofoamer
Model 2BC802 Foaming Soap Application System automatically mixes compressed air with pre-mixed cleaning and/or sanitizing solution to produce rich foam that sticks to vertical surfaces. Because foam stays on surfaces and remains wet longer results are improved. Better cleaning, better sanitizing and less streaking.
Hydro Engineering's foaming soap system includes unique foam consistency controls that allow operator to vary air to solution ratio. Depress trigger on the discharge control gun to dispense foam that is shaving cream thick, or adjust air at control box to spray liquid chemical.
Test results indicate that using foam can reduce chemical usage by as much as 50%.
Portable Foaming System
2BC802 is also available as a completely self contained foaming soap delivery system. Mounted with 8" caster and brake, 30 gallon solution tank, and pneumatic delivery pump and controls. Retract reel and different hose lengths are available options.
---
---

2BC802 Hydrofoamer