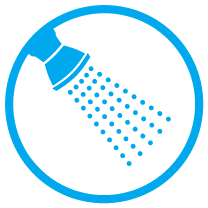 Chemical Mix System - UPRR
Union Pacific uses a lot of soap to wash equipment. They purchase the product in full railcar quantities. To protect users and equipment and control costs, the product needs to be diluted with water rather than being used as a concentrate. Hydro Engineering provides a safe and simple solution for precision dilution and product delivery.
The UPRR - CMS1 is connected to the large chemical concentrate bulk tank and a water source. Upon demand, chemical resistant pumps meter the water and concentrate at precise rates through a mixing chamber and into a pressurized holding tank. The detergent solution is available to application or foam generation stations at a flow rate of up to 10 GPM and 90 PSI.
Safe and simple operation along with exact dilution ratios are key benefits of the automatic Chemical Mix System.
---
Options
Wall mountings
Self retract hose reel
Adjustable spray nozzle
---
Model Specifications

Soap Mixing System