Hydroblaster Turbine Engine Washing Systems (TEWS)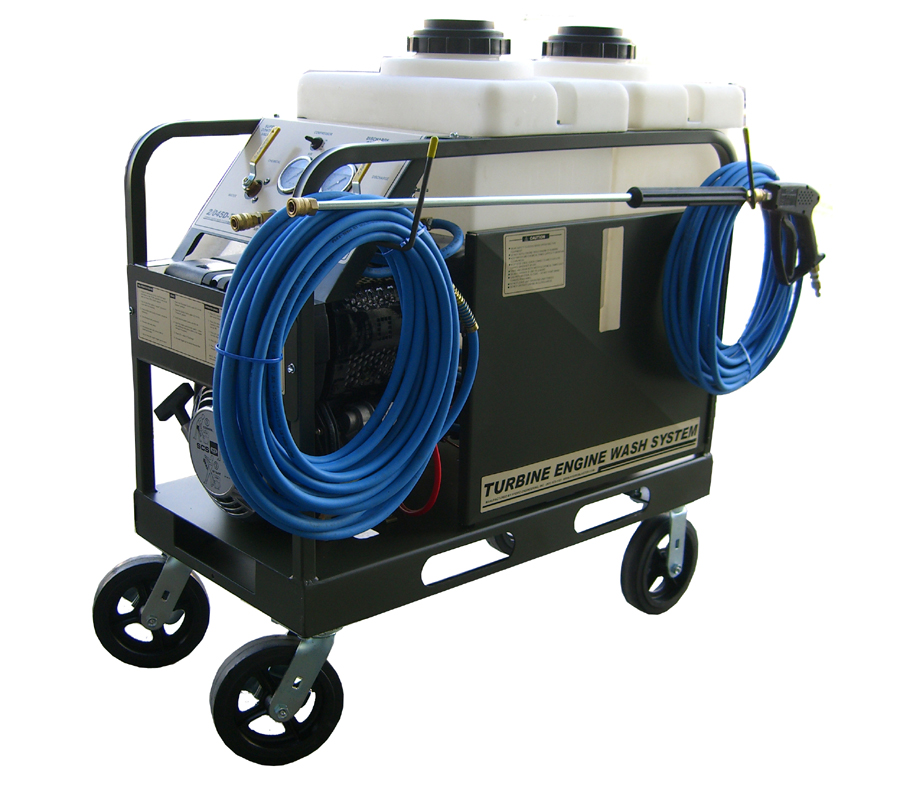 Model # 2/045D-TEWS, NSN, 4940-01-514-0087
The TEWS has its own diesel engine power source and carries both gas path cleaner and water for self-contained on-site cleaning of turbine engines.
Using the TEWS does not require you to gather and transport any of the following to the wash site:
Requires no external power source
Needs no external water source (hose or bucket)
No external chemical supply containers (buckets or drum).
The "C" model supports all turbine aircraft and includes an onboard air compressor to close engine bleed bands. The TEWS-C is fully approved by the U.S. Army.
NSN, 4940-01-514-0087
...Read More
---
Over Ocean Flights
The TEWS system is the perfect tool to use everytime flights are conducted over salt water. This Sikorsky S92 Helibus requires a daily Engine Fresh Water Wash with Hydro's TEWS-C in order to maintain peak performance when delivering crew members to an off-shore oil rig. Not only will the TEWS alliviate the salt build-up produced by over ocean flights, it will also increase the effeciency and power of the turbine engine by 3-10%!
The Hydropad provides an extra level of protection for the apron or maintenance area by keeping solvents and other chemicals off of the tarmac. Learn More About Hydropads Here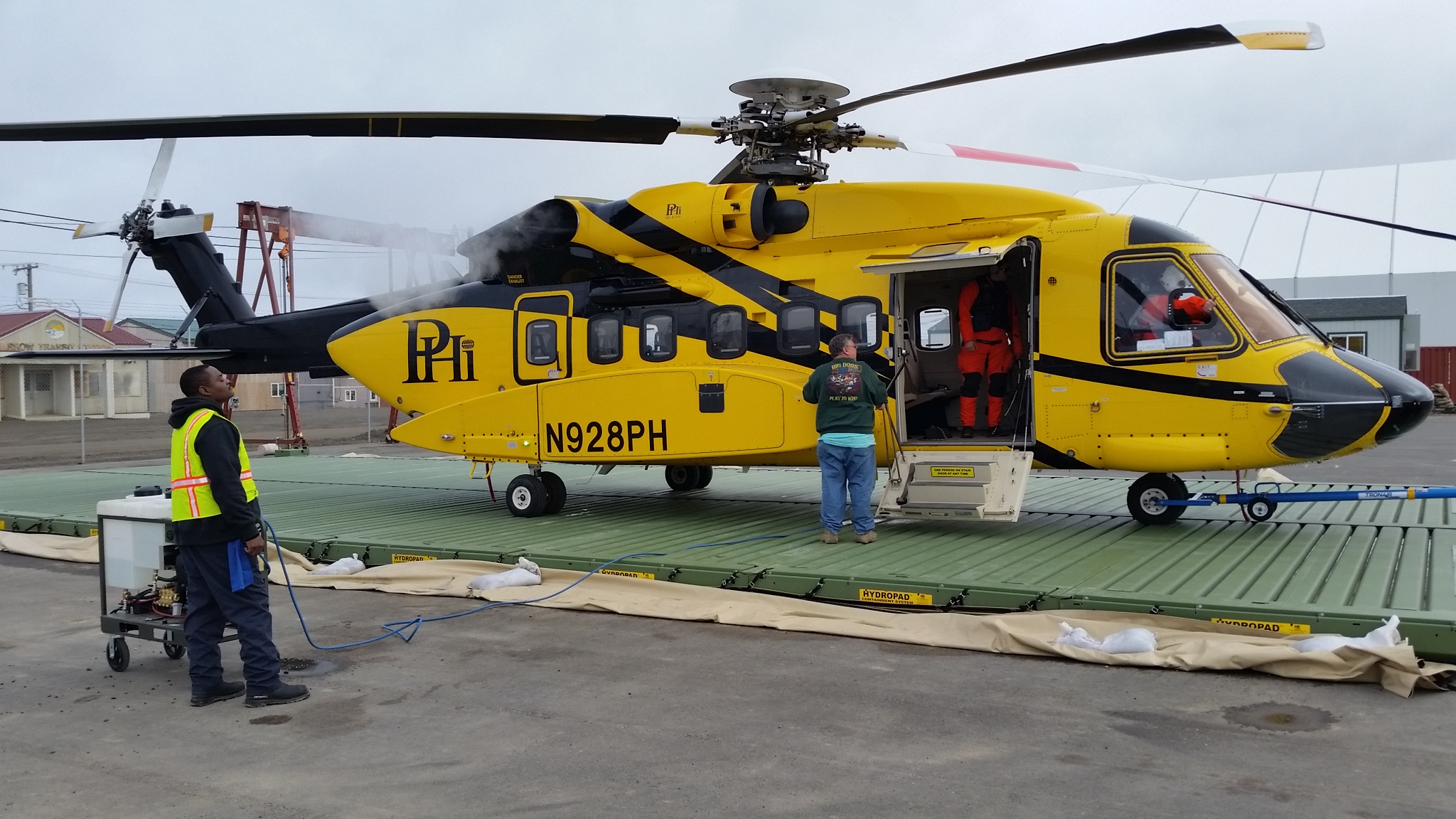 ---
Large Aircraft Turbine Engine Washing System

Model #12/075TEWS-DST
Totally self-contained, the 12/075TEWS-DST is the next generation of cleaning systems designed specifically to support large aircraft engine washing requirements. With sufficient fluid capacity and individual discharge controls, this system will wash one engine individually or two engines simultaneously.

---
REDS-HM
Remote Engine Dual System Hose and Manifold
This dual washing harness allows both engines to be connected to the TEWS, DST or ATAWS


---
Army Aviation Magazine Jan 2006 Article


' The first solution was to authorize the Turbine Engine Washing System (TEWS) as a substitute for the antiquated Universal Wash System in the A-92 aviation unit maintenance shop set.'
PM-AGSE

Aviation Maintenance's Bridge to the Future Article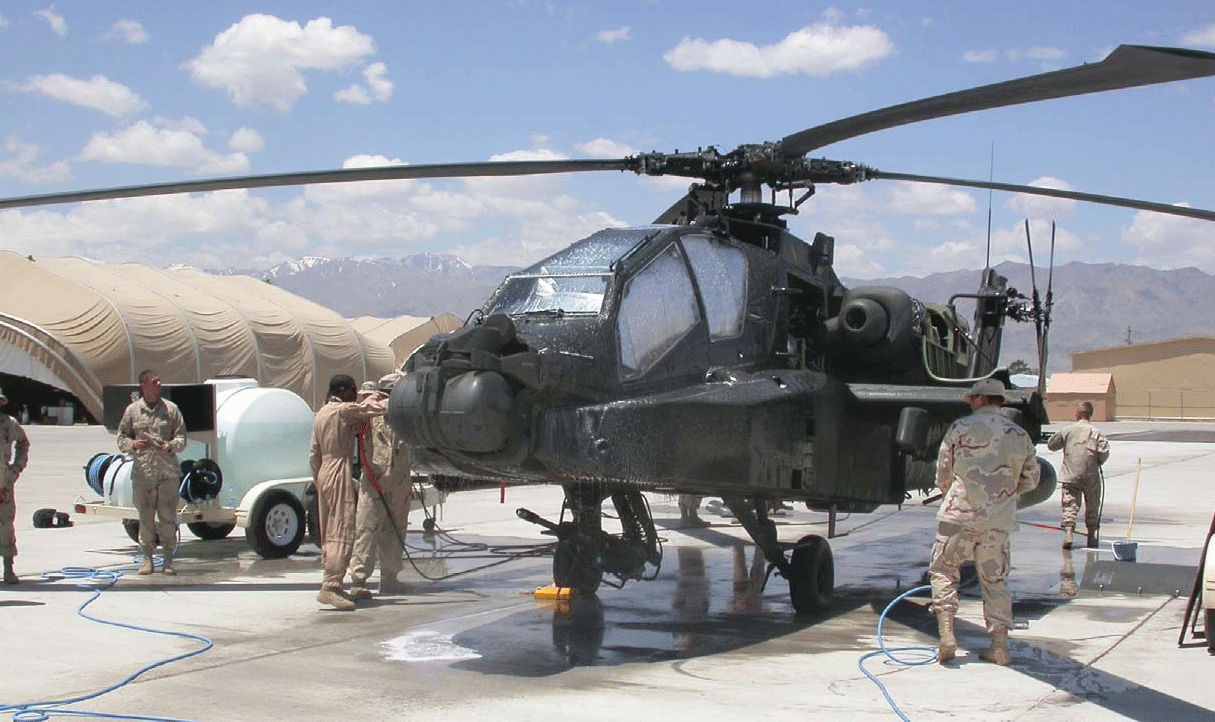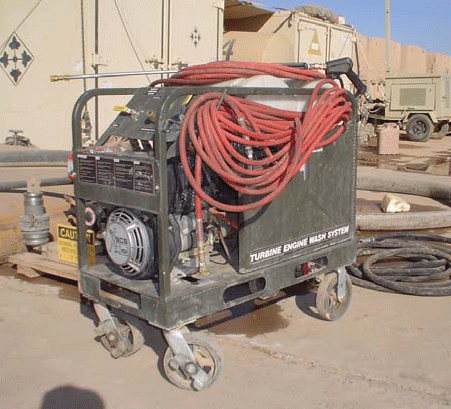 ---
Specification Sheets

Model 12/075TEWS-DST

Model 2/045D-TEWS-C Specification
---
Press Releases
---
Creating a portable wash bay just became a whole lot easier with Hydro Engineering's brand new redesigned Hydropad.
...Read More
---
Hydro Engineering Inc. offers a wide variety of options for washing the outside of vehicles and equipment. Now, the inside of turbine engines can be cleaned too; the TEWS brand of engine washers will make any aircraft turbine washing a breeze.
...Read More
---
Screen reclaiming is a difficult and dirty job. Hydro Engineering Inc. simplifies reclaiming with process improvements and new equipment designs to make screen printing safe and environmentally acceptable.
...Read More
---
Beginning in 2007 Hydro Engineering Inc. started working with the Utah Department of Natural Resources (parks and recreation) and has provided over 50 mobile, trailer mounted Hydroblaster specifically designed for Aquatic Invasive Species decontamination.
...Read More
---
Historically, car wash operations have consisted of soaking, washing, and rinsing with little concern of where that dirty water goes. Ideally with drought-like situations, the water should be constantly recycled in order to eliminate unnecessary consumption; now, Hydro Engineering Inc's new solution is that dirty water can be reverted back to clean water and stay in the system, saving both resources and money in this recent California drought.
...Read More
---
The innovative Hydropad Wash Rack System is utilized to capture and recycle 100% of wastewater. Now, Hydro Engineering Inc. has developed ways in which to efficiently capture and dispose of dirt and debris that come from heavy equipment and landscaping maintenance.
...Read More
---
Hydro Engineering Inc was 1 of 179 companies out of over 6000 to achieve the exemplary level of contract performance supplying quality products to our men and women in our armed forces.
...Read More
---
Cliff's Natural Resources PTY LTD and Hydro Engineering Inc. have completed the installation of a completely portable and environmentally friendly Hydropad wash rack, which recycles and completes waste water treatment.
...Read More
---
The American Bonanza Mine and Hydro Engineering Inc. have completed the installation of a completely portable and environmentally friendly Hydropad wash rack which recycles and reuses the wash water.
...Read More
---
Hydro Engineering delivers and commissions its green wash rack as part of Boeings KC-767 aircraft refuelers program supplied to the Italian Air Force. This completely portable wash rack also collects and recycles the water from the aircraft washing process.
...Read More
---
Major changes to storm water pollution prevention plans (SWPPP), are on the way. Hydropads from Hydro Engineering Inc can solve your chemical containment requirements and your cleaning operations requirements.
...Read More
---