State Parks & Recreation Instant Wash Pad Systems

Portable Washing Pads For State Parks and Recreation Offices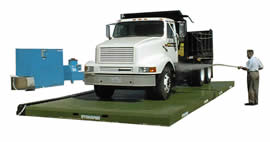 Trucks or Heavy Equipment, Hydropads Wash It All
State Parks and Recreation offices nationwide are facing tough challenges today, with increased pressure from the EPA, severe drought conditions, and thousands of locations requiring washing equipment.
Hydro Engineering's portable wash rack system is the answer.
Your equipment is driven onto the Hydropad portable wash rack system, recycled water is pressurized through the Hydroblaster pressure-washing system, dirt, oil and grease are all caught and contained. The Hydrokleen wastewater treatment system purifies the water down to less than one micron making it available for reuse through the washing system.
No design
No construction
No permits
Huge water savings
Complete EPA compliance
Over 500 Hydropads are in daily use washing equipment all over the world.