Hydropad Portable Wash Pad Equipment Setup Is A Snap
Instant Wash Pad Completed Fast
This site included 4 high-solids Hydropads to create a 14' wide x 32' long wash pad.
Also included was a Hydrokleen model HE/5000 wastewater recycling system, a CMAFU-2 solids filter and a 5/3000 EHGV-B natural gas-fired Hydroblaster.
This is not a construction job, it's installation of equipment and it's fast!
Place Wash Pad On Almost Any Flat Surface
4 Hydropads, the Hydrokleen waste water recycling equipment and a Hydroblaster pressure washer.

With Your Hydrokleen Recycling System You're Up and Washing
Let The Washing Begin!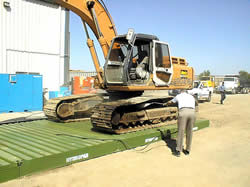 It's about as simple as that. And just look at those pads and the 50,000 lb. Excavator on them. They were set on the dirt. As long as the ground is flat, you can set the pads on dirt gravel, asphalt, concrete--just about anything.