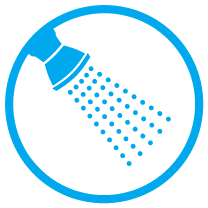 Electric Motor, Hot Water Pressure Washer
EE Series
Hot water pressure washer, powered and heated electrically up to 10 HP and 4,000 PSI. Hydroblaster series E are certified to CE, CSA, and UL1776. Electric heating system is CSA certified.
Key Features:
5 to 10 HP
Up to 4,000 PSI
Up to 5 GPM
All E model Hydroblaster pressure washers are certified to UL-1776, CSA, and conform to CE standards.
---
Volume in GPM (LPM)
Pressure in PSI (BAR)
Horsepower (kW)
Select Model For Specification Detail
---
Reviews
I Don't Anticipate Ever Replacing This Pressure Washer
"It's a workhorse, what a great machine; we use it every day for 8 hours a day."
---