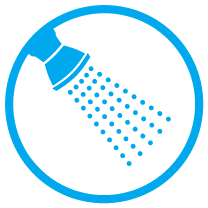 Turbine Engine Wash System
TEWS-D
The TEWS-D turbine engine washing system provides the perfect solution for turbine engine washing of small to medium sized fixed wing and rotary wing aircraft. Turbine engine powered ground support equipment can also benefit from engine cleaning with this system.
This self-contained unit is provided with fluid reservoirs for ultra-pure water, gas path cleaner and alcohol. Large lockable wheels insure easy transport around the flight line and the battery powered pumping system is flight line safe and quiet to operate.
The system can be supplied with optional tools that allow compressor and hot section cleaning for a wide variety of aircraft.
Enjoy the benefits of a properly cleaned turbine engine; improved torque, increased engine RPM and reduced fuel consumption which combine to equal higher speeds and shorter flight time.
Read the Case Study here
---
Options
Retractable wheel support
Tool bag
Lockable tool box
Engine wash connectors and hot section cleaning tools
Contact Hydro Engineering, Inc. for help with selecting the wash manifold connectors and cleaning tools for your aircraft.
---
Model Specifications

TEWS-D Brochure