Invasive Species Decontamination
---
Hydro Engineering, Inc's decontamination systems are the answer for invasive species decontamination.
We have the entire TURNKEY PACKAGE
Hydroblaster invasive species decontamination systems are a complete package of equipment delivered with everything you need to protect your body of water.
Washing, wastewater capture and containment and wastewater recycling equipment are all included.
Hydrosite climate-controlled equipment enclosure
Plumbing & electrical systems meet all local, state and federal codes
All pre-wired, lighted, plumbed, heated, air-conditioned, insulated, and weather-tight
Complete secondary containment
Freeze protection and backup freeze protection
Emergency man door entrance/exit
Hydroblaster trailer mounted decontamination systems
If a more mobile application is required, Hydro Engineering, Inc. has designed the best mobile watercraft decontamination system available. With many of the same features as our turnkey Hydrosite™ systems, the ability to correctly decontaminate watercraft becomes a reality.
We have highly trained Project Managers that can provide you with detailed information to assist you in your watercraft decontamination efforts.

Download a product Brochure

Hydrosite Watercraft Decontamination System Overview
---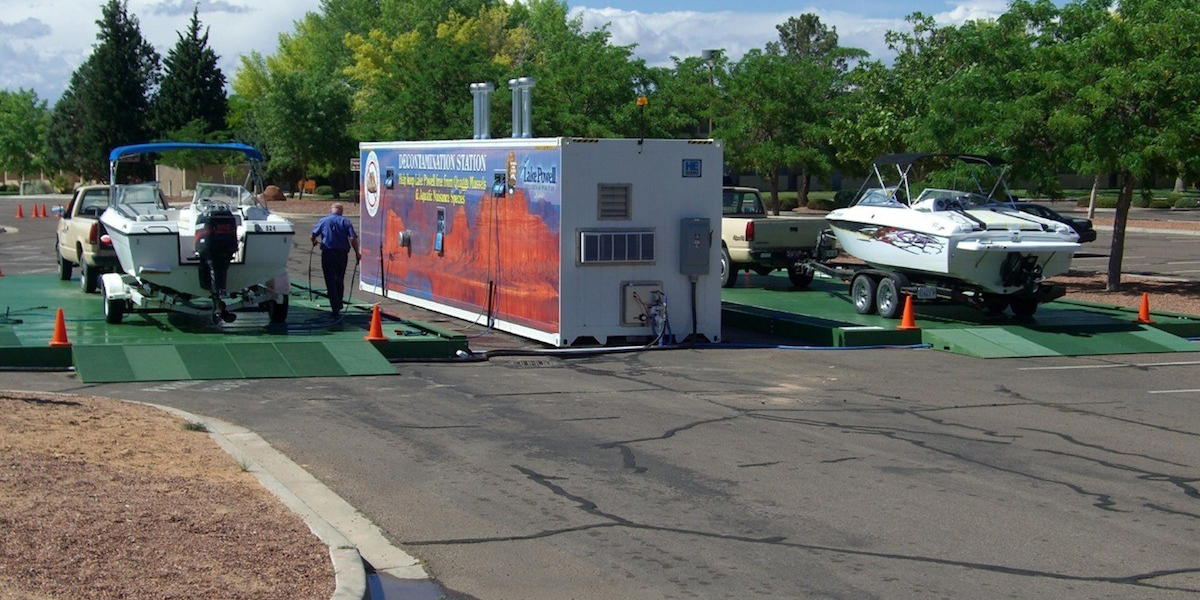 No Construction, No Permits Needed, No Delays
The Hydrosite Decontamination system has been designed with all the tools for a complete kill of invasive species.
We've designed, built and tested many unique attachments that reach all areas on and within the watercraft that may be infected with invasive species.
Whether it's aquatic nuisance plant species, zebra, or quagga mussels, Hydro Engineering, Inc has the complete package.
You provide power and water
.
Hydro Engineering Inc takes care of everything else:
Sets the system in place
Makes the connections
Fills up, fires off, tests and trains your operators
Trains your maintenance personnel
Provides a complete maintenance contract with re-training visits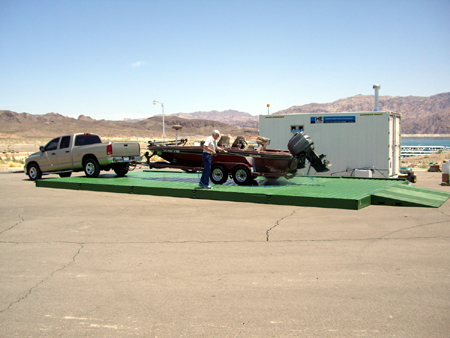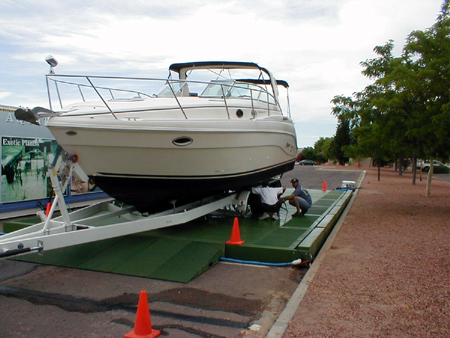 ---
Need a Totally Portable Solution For Off-Site Decontamination?
We all know the Clean Water Act of 1972 prohibits washing on the ground. Here's a quick solution. The Hydromat is a fully licensed and patented technology that allows you to pull watercraft on top, then wash, collect and contain all wastewater. It sets up in minutes, making you ready to wash at any remote location.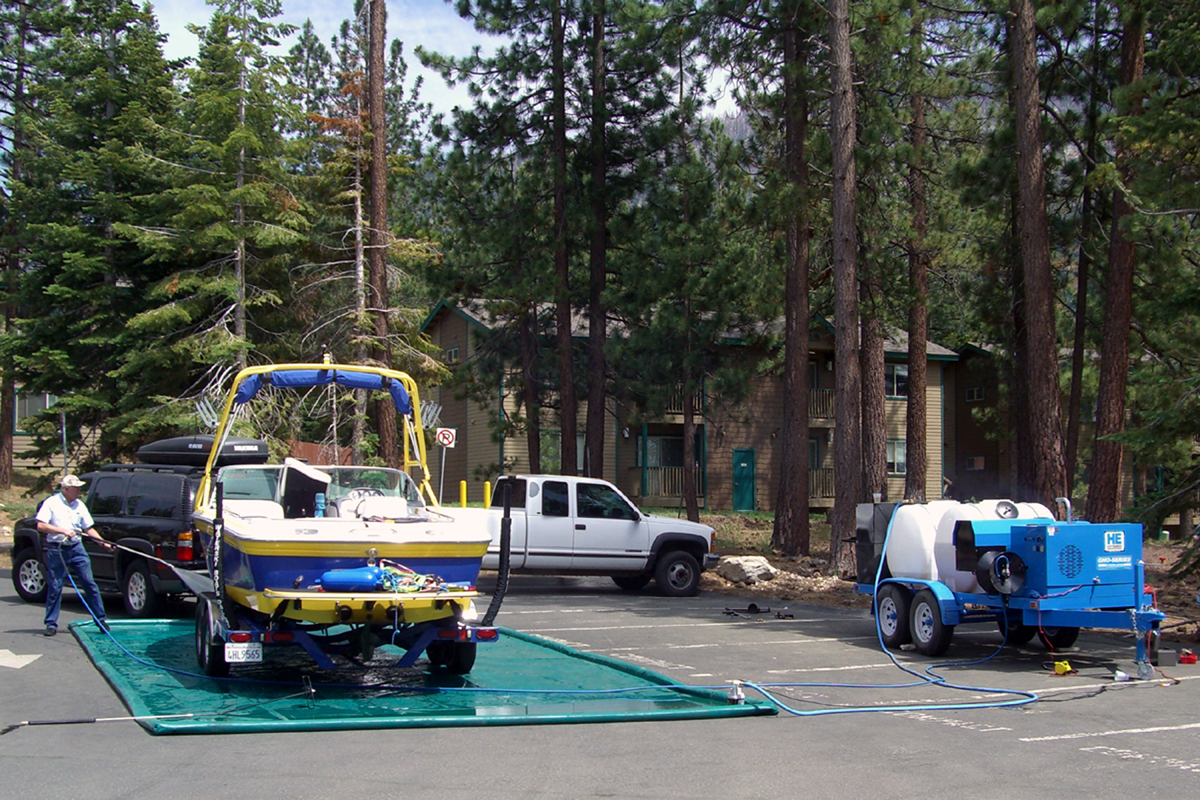 ---
We Have Many Models of Decontamination Trailers
We've designed and built the decontamination trailerjust right for you! Decontamination of equipment is our specialty, with over 500 operating in the Middle East. We've used this extensive experience to build 3 Hydroblaster trailer models just for invasive species decontamination. One model even carries a Hydromat instant containment and wastewater collection and transport system.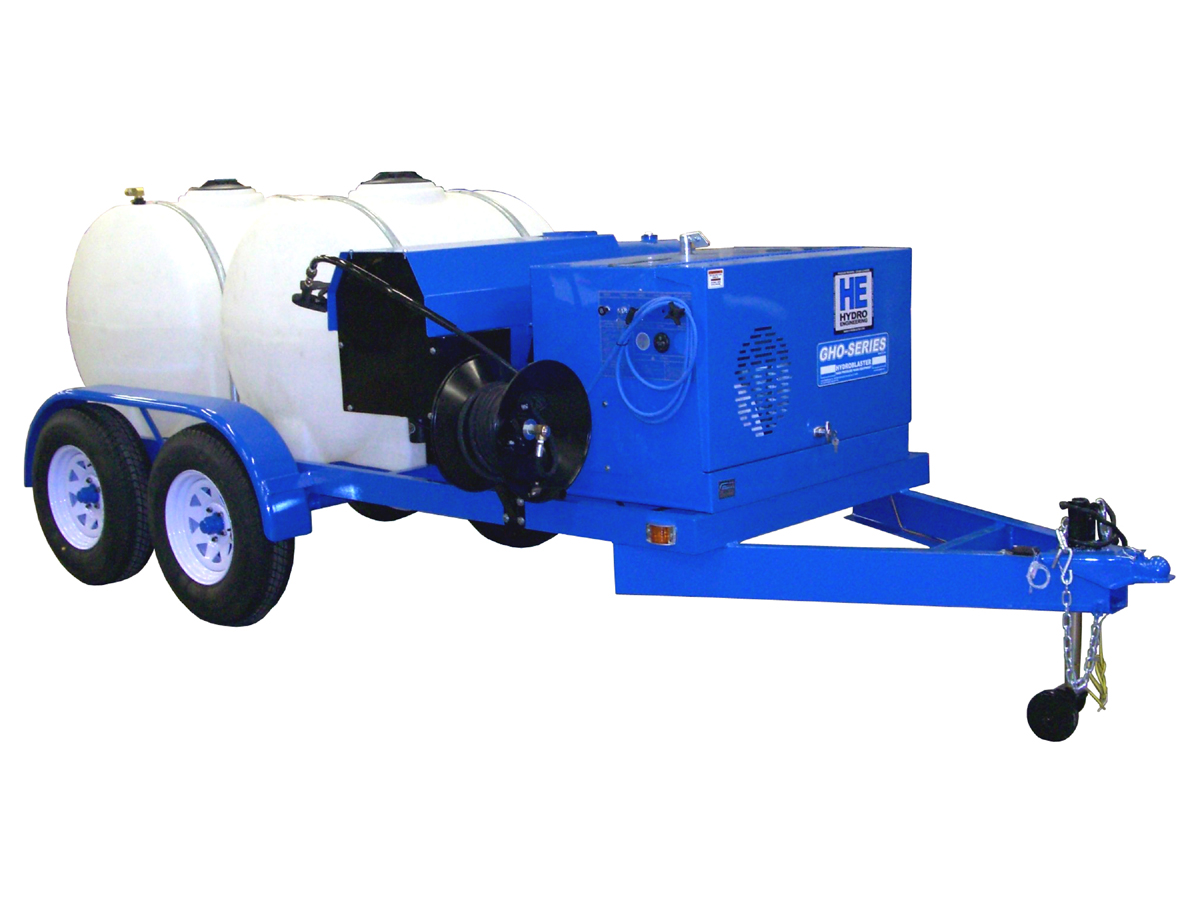 ---
See the ANS program in action at Dillon Reservoir, Colorado
---
Marinas - the EPA and THE Clean Water Act
With the national drought and water pollution problems abounding, the EPA is determined to control wastewater discharge where it can. And it has determined that it can at marinas. The Clean Water Act says: "No water other than that from rain can be discharged to the ground and make its way to a waterway" (40CFR-122.2). It's simple--no more washing in the lakes or on the ground.

If you're worried about the methods used to clean boats at your marina, you need to take a look at the Hydropad portable washpad system.

---
---
What's a Zebra Mussel?

Click here for complete info on Zebra Mussels
---
Zebra/Quagga Mussels Before and After Decontamination
Picture these mussels inside the out drive and engine. The smaller mussels are taken into the engine where they grow to full size and plug the waterways. You then overheat and burn up your engine.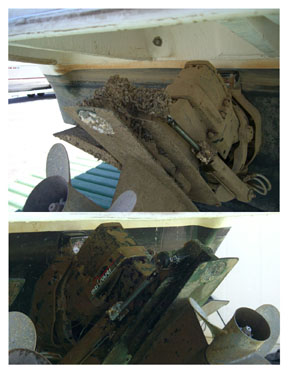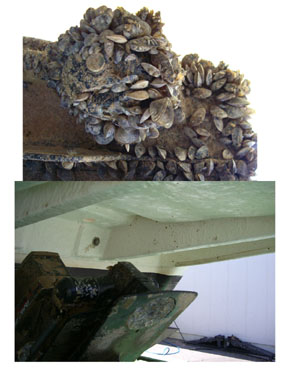 ---
Zebra & Quagga Mussel News
On January 10, 2007 the National Park Service announced that zebra mussels were found for the first time in Lake Mead near Las Vegas, Nevada. The quagga mussel, a member of the zebra mussel family, was discovered by maintenance personnel servicing a marina. Quagga were attached to cables anchoring the marina's docks. Further inspection of the lake found more extensive contamination.
Zebra mussels are an Aquatic Nuisance Species (ANS) that can propagate very quickly and can cause a significant impact on recreation and industrial activity. Eradication of an established mussel population is deemed impossible.
Waterways in the eastern half of the US have dealt with infestation for years with little success in controlling the onslaught of zebra mussels. The logical approach dictates that decontamination of each and every boat, trailer and tow vehicle that arrives and departs is critical to prevent further contamination spread. This approach is also an essential component of control measures after discovery.
The focus at Lake Mead must now include both prevention and management of the problem.
Management entities responsible for other waterways in the western half of the US have been notified of Lake Mead's situation and should plan to expedite installation of preventative measures before they too have the same misfortune.
Hydro Engineering, Inc. is very familiar with the decontamination application requirements and has proven systems available to incorporate prevention measures at any waterway.
Hydro Engineering's Hydrosite™ decontamination systems are the answer! We encourage management of waterways throughout the country to contact us for assistance.
The National Park Service Announces Watercraft Decontamination Stations at Lake Powell.
Glen Canyon News Release 5-24-07


Additional Quagga Mussel Decontamination Station Installed at Wahweap
Glen Canyon News Release 6-30-07


Boat Infested With Quagga Mussels Decontaminated
Update from The California Department of Fish and Game


12/2007 Letter
---
25 Years of Decontamination Experience
We are the experts. Follow this link to the Corrosion Control and Decontamination section of our website to see some of the many systems we have in use:
Corrosion Control / Decon Systems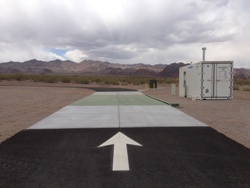 ---
The Complete Story on Zebra Mussels
Follow this link to the USGS page on Zebra Mussels
The Zebra Mussel Page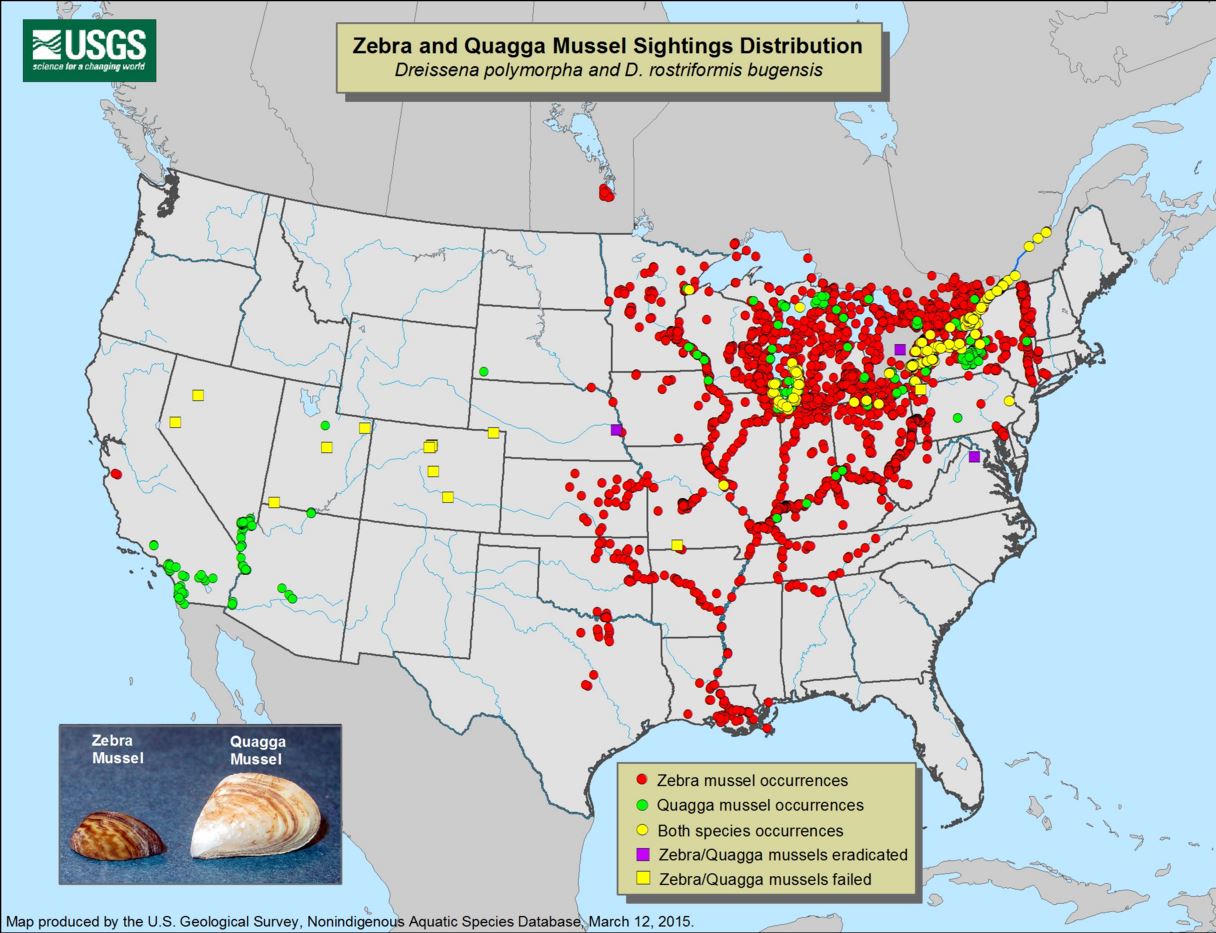 Zebra Mussel Sightings as of 3/2015
---
Watercraft Decontamination
Boat Washing and Bilge Draining
It's easier than you think to meet the "Clean Water Act." Hydropads are the perfect instant wash and collection site for portable washing. Applications like boat washing and bilge draining are done on the Hydropad, collecting all wastewater for proper treatment and disposal. Set Hydropads in place anywhere in the marina, where drive-on, drive-off access is possible. Add a Hydrokleen filtration system and you can drain the bilge, wash, collect and reuse the water or discharge to a sanitary sewer.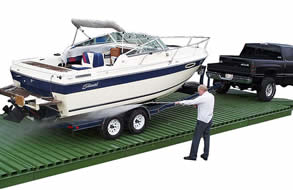 ---
Marina Portable Wash Pad System
Drive On, Wash and Then Drive Straight Off
The Hydropad system can be set on the ground just about anywhere the ground is firm enough. Concrete or asphalt is not required. All Hydropads are 8' long and come 8', 10', 12', 14', 16', or 20' wide. They can be connected together side-to-side and end-to-end, forming any size washpad required. Three 8' x 14' Hydropads provide a 14' x 24' long system.
By making simple hose connections from the Hydropads to the Hydrokleen Wastewater Treatment/Recycling system, they can be placed almost anywhere.
Weight is not a problem; Hydropads can handle up to 15,000 lbs per square foot.
---
It's An Airplane Until It Lands In Water
An then it becomes a watercraft
Sea Planes, Amphibious Float Planes and those with Strait Floats can transport Aquatic Invasive Species (AIS) from one water body to another. Items which protrude from the floats, rudders, wheels, etc can gather and hold AIS, transporting it to the next landing site. These pontoons also have compartments which maintain the buoyancy of the craft, water seeps in requiring frequent pump out of the compartments. If not done prior to takeoff, this water can carry AIS to the next location where water is evacuated.
Learn more by following this link to an Aircraft Owners & Pilots Association (AOPA) video....Read More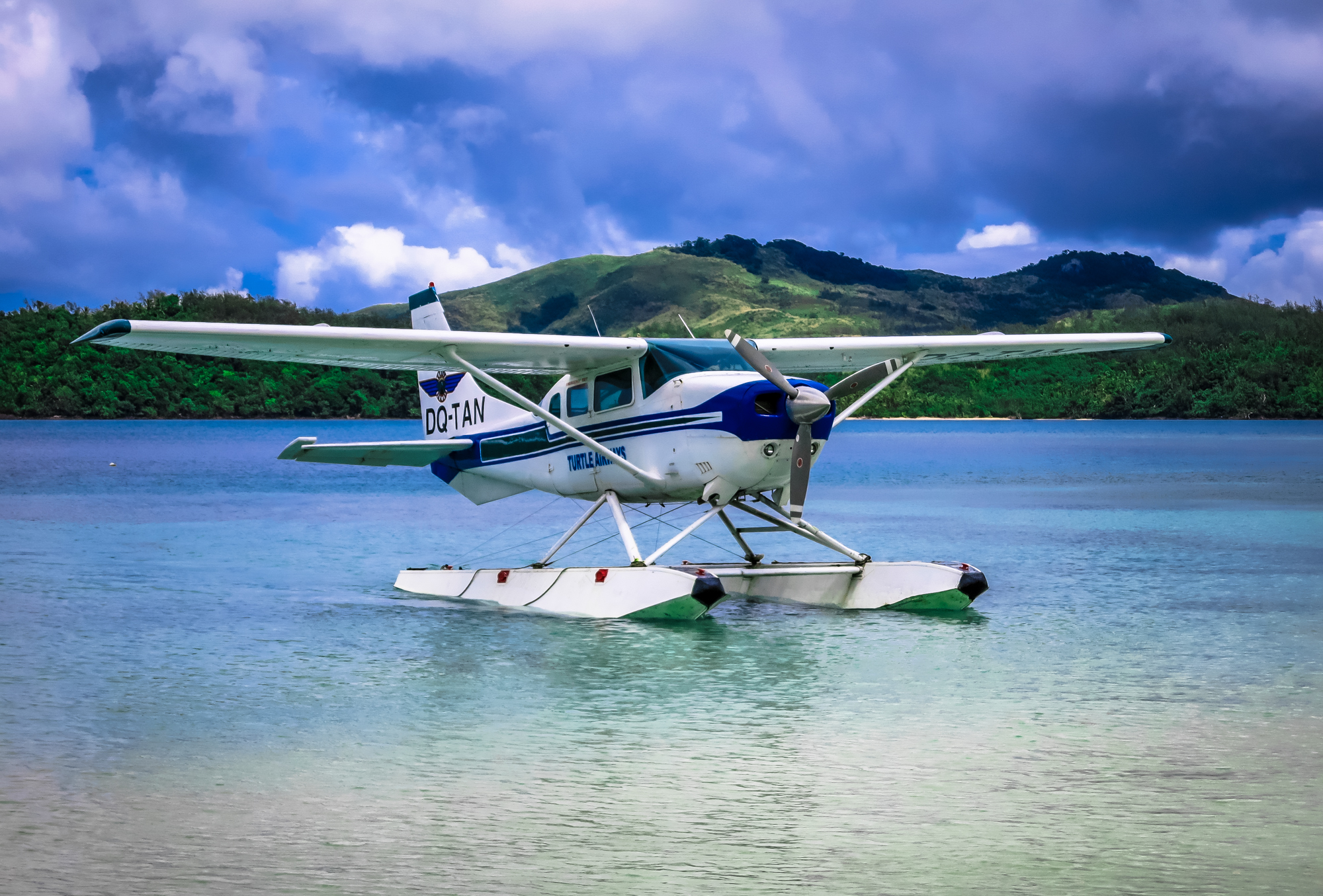 ---
Marina Oil Water Separator
Hydrokleen HE/S1
The HE/S1 will remove free oils from the collected water down to less than 50 ppm. With the Hydrosorb option it takes hydrocarbons even lower, to under 10 ppm.
Skid-mounted and totally portable is the key. Everything is above ground and installs in hours, not days or weeks.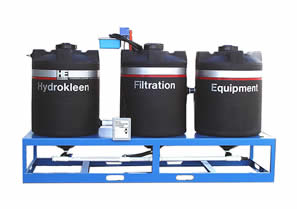 ---
Big Boat impounded for tiny mussels
Jun. 12th, 2012, by Sun Advocate, Price Utah
Utah wildlife officials impounded a 53-foot sailboat last week and had to comb over every square inch of it to find and exterminate an infestation of tiny mussels.
---
Marina System Financing Available
Use the money collected as you charge boat owners for use of the facility, and the entire washing, collection and filtration system pays for itself. With our marina finance plan your new system is free!
"Our Exclusive 36 Month Zero Interest Lease"
That's right, we will lease it to you for 3 years with no interest; you simply pre-pay a 10% residual (buy out) and make 36 payments totaling the equipment price and you own it.
Customer Reviews for
AIS Decontamination
---
The decontamination system by Hydro Engineering Inc., is totally portable and can be set up and operational in one day. It includes a patented modular wash rack that collects the waste water and oil... Read More