Portable Motor Pool Wash Rack Systems

Tactical Wash Rack For the Motor Pool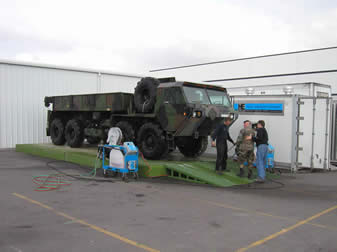 Portable Motor Pool Wash Rack

Now your Motor Pool can setup a wash rack in one day. No design, construction, permits and best of all no delays. The system comes complete: closed loop, portable wash rack with Hydropad wash pads, wastewater recycling system and Hydrosite equipment enclosure. You supply the water, power and the vehicles to wash.

See The System In Action
Motor Pool Wash Rack Video(Real Player)


Motor Pool Wash Rack, Undercarriage Washing Made Easy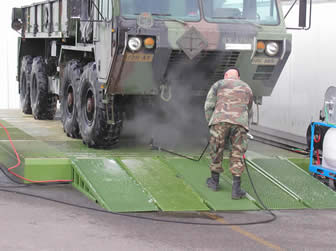 Undercarriage Washing Wand Allows Operators to Clean Every Area

With our special Hydroblaster undercarriage washing wand you can quickly blast clean the underside of any vehicle, making maintenance tasks much easier. Standing clear, you no longer get wet and greasy while cleaning undercarriages. Decontamination is made simple and effective with this highly developed tool.
Motor Pool Washing Made Faster


Up to Four People Washing At Once
With the Hydroblaster Tactical Motor Pool Washing System you can have two individuals foaming on cleaning compound and two individuals washing with high-pressure hot water, all at one time. Vehicles are cleaned fast and thoroughly with this state of the art washing system. Tactical is what it's all about.

Portable Motor Pool Wash Rack Connections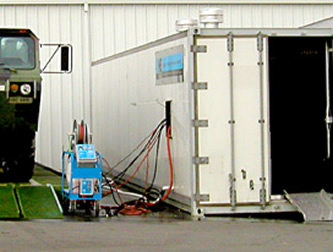 Simple Connections Are Made to The Hydrosite
With this fully tactical system, all connections between the REMs, Hydropads and Hydrosite are quick disconnect and cam-lock fittings. All washing and wastewater recycling equipment is factory installed and located within the Hydrosite.

Like all of our corrosion control equipment, the Portable Motor Pool Wash Rack is available on GSA contract.