Centralized Machine Shop Coolant Cleaning Products
If your machine shop has multiple CNC, Cutting, Grinding or Milling machines and many hours are spent removing, cleaning and disposing of coolant one our our centralized systems may be just right for you.
Machine Shop Coolant Cleaning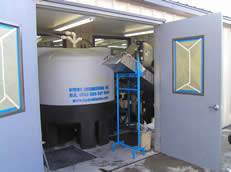 The Hydrokleen Coolant Care System
Our Coolant Care System is a centralized machine shop coolant cleaning system that can service multiple; CNC, milling and/or grinding machines. The Coolant Care provides up to 50 gallons per minute of filtered coolant back to the machines.
A customer using grinding machines, to produce oil field drill bits, reports that their Coolant Care System has provided many unexpected benefits:
• Labor to maintain the coolant in their machines has dropped dramatically. They were spending one hour per day per machine to change and de-sludge the coolant tanks. With the Coolant Care System they no longer perform this operation adding one hour in eight for more production of parts.
• Grinding wheel life has increased by four times. In the past the operator adjusted in the grinding wheel several thousandths after each set of parts, now he only adjusts it after four sets of parts.
• The grinding process has been sped up because the coolant comes back to the machine much cooler allowing faster grinding speeds.
• Their machinists report that the awful smell is gone from the coolant. Hydro-Biodigesters have solved this problem.
• Their machines are staying much cleaner. The Coolant Care System removes all tramp oils and filters the coolant down to micron levels. By using Hydro-Biodigesters in the coolant the machines are being eaten clean.
• The machine shop area is super clean now, before the coolant fog floating in the shop fell as condensation on the floor requiring moping every few hours.