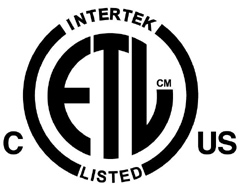 All Hydroblaster-Pressure Washing equipment is certified to UL and Canadian CSA standards


Authorization to Mark
All Hydrokleen- Wastewater Treatment/Recycling systems are certified to UL and Canadian CSA standards


Authorization to Mark
All Hydrosite- Integrated Cleaning and Recycling systems are certified to UL and Canadian CSA standards


Authorization to Mark
pH Monitoring Systems are certified to UL and Canadian CSA standards


Authorization to Mark


Testing of our Hydroblaster and Hydrokleen equipment was completed in December of 2008. Hydro Engineering is poised to sell its complete line of products to locations where CE Certification is a must. Additional products are now being tested and will also be cETLus Certified.


CE Certification Certificate of Conformance

The following organization's quality management system has been assessed and registered by Intertek Testing Services NA, Inc. as conforming to the requirements of: ISO 9001:2008
The Quality Management System is applicable to: Design and manufacture of wash rack systems including; Hydroblaster pressure washers, Hydropad above ground wash pads, and Hydrokleen waste water filtration and recycling equipment.


ISO 9001 Certificate of Registration