Automatic Control System
Hydrokleen Wastewater Recycling & Pre-Treatment
PROGRAMMABLE LOGIC CONTROLLER (PLC)
The use of a programmable logic controller utilizes many of the unique features that are built into the system, in addition to the many options that may also be part of a system to be managed by a controller. The logic controller monitors the electrical control devices of the system and acts upon signals it receives from these devices. The controller will do all of the following:
1. Restart the system automatically in the event of a power outage, provided that the power supply switch on the control panel of the filtration system is turned on.
2. Provide a signal or power to activate the sump pump(s) providing effluent to the filtration system. Power to the supplying sump pump(s) is ultimately controlled by a signal from the float switch in the final process tank.
3. Put the system into "high filter rate" polish mode, the 15/45 minute program can't be changed at this time. By default, the system is scheduled to operate in high filter rate polish mode for 15 minutes every hour, 24 hours per day. As part of the normal operation of the system, the controller will de-energize the pumps for 45 minutes every hour to reduce power consumption. This is known as the "ENERGY SAVE MODE". The system may be manually taken out of energy save mode and put into high filter rate polish mode by toggling the switch on the control box of the Filtration System. Additionally, the system will automatically be placed into high filter rate polish mode whenever any of the Hydroblaster pressure washers are activated.
When the Hydroblasters are shutdown and/or when the high-rate toggle switch on the control box is turned off, the pumps will continue to run for 15 minutes before the controller puts the system into energy save mode.
4. Put the system into a backwash cycle at "user-configurable" programmed intervals. By default, the system is scheduled to backwash Monday through Friday at 2:00 am.
If the system is operating in "high filter rate" mode at the time a backwash cycle is scheduled, or the filtration system receives a signal to operate in "high filter rate" mode during a backwash cycle, the system will suspend the backwash cycle and proceed to initiate the necessary sequence of events to bring it into the high filter rate mode.
5. Be able to react when a signal is received from the "foaming sensor device," located within the first process tank, by sending defoaming agent into the first tank.
6. Finally, all Hydro-Biodigester dosing is automatically timed by the system and introduced only when not in discharge mode.
Hydrokleen Wastewater Treatment and Recycling Systems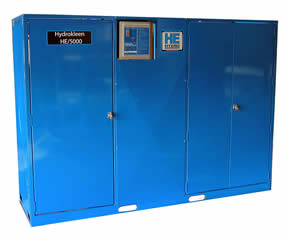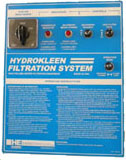 HE/3000,5000,7000,8000,ACF3 and Extreme Clean Models can be controlled by the new Automated Control System